The Dail will continue to discuss the Water Services Bill 2014 in Leinster House today.
TD's will discuss the remaining sections of the Bill, which is at Committee stage.
Last night, TD's discussed Sections 3 and 5 in depth and at length.
Today's debate is expected to run until the Dáil adjourns at 2pm.
Section 5 of the Water Services Bill deals with the Water Conservation Grant, which costs €130m according to Minister Alan Kelly.
To be eligible - a household will provide information on their water supply regarding their dwelling - to Irish Water.
The Minister for the Environment said response to the grant where people have paid for water for decades has been welcomed.
Alan Kelly said credit must be given to the people involved in those group schemes.
During the debate a number of opposition deputies called for the Dáil to be adjourned to give time to Minister Kelly to seek clarification on figures regarding Section 5 of the bill.
Confusion has arisen over the number of households that the minister says will get the grant.
Alan Kelly said 1.3 million principle primary residences will get the grant, however it was put to him by a number of opposition deputies, highlighted initially by Brian Stanley of Sinn Féin, that the most recent CSO figures say there are 1.65m households.
It was pointed out to the minister that there are 300,000 homes in the difference.
The debate focused on the net financial impact of Irish Water on the State, following yesterday's major anti-water charges demonstration in Dublin city centre.
Another protest has been scheduled however no date has been agreed yet.
The Right to Water spokesperson Brendan Ogle has said there will be another protest but no date has been agreed. #rtenews

— Martina Fitzgerald (@MartinaFitzg) December 11, 2014
It had been previously announced that a nationwide protest would take place on Saturday 31 January.
Organisers said up to 100,000 people took part in yesterday's protest, while gardaí put the figure at above 30,000.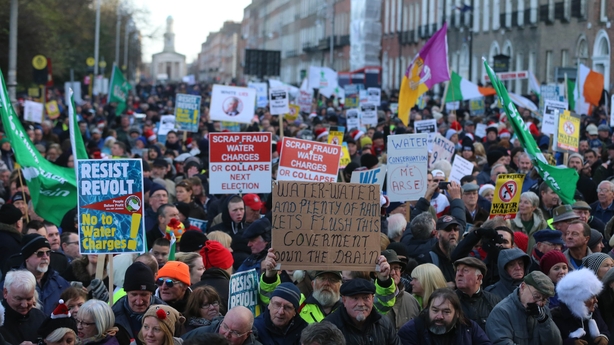 Socialist TD Joe Higgins said this morning that the demonstration was a massive and significant protest, which shows that demand continues for the abolition of water charges.
He said the campaigning will grow in intensity up until April when the first bills are sent out by Irish Water.
Speaking on RTÉ's Morning Ireland, Mr Higgins said campaigners are starting to organise a massive boycott of those bills.
He said no government can sustain that level of opposition and there will be a huge impact on the outcome of the next General Election.
Labour TD Derek Nolan said the Government has to convince people the water charges are necessary to invest in the infrastructure.
He said the fees that are now in place are very affordable, working out at 16c a day for an individual.
Mr Nolan said: "We have done our best to meet people's concerns about affordability."
But Mr Higgins said if Labour does not listen and abolish these charges, it will be the end of the party in the election.
Mr Nolan replied: "If we took the easy option and abolished them and allowed our water to decay people wouldn't thank us for that either."
The Government announced a revised scheme last month that will see charges will be capped for a single adult household at €160 and for others at €260 until 2019.
Households that register will get a €100 Water Conservation Grant each year. People have until 2 February to register.
McDonald calls for abolition of charges
The issue of water charges was also raised during Leaders' Questions by Sinn Féin deputy leader Mary Lou McDonald.
Ms McDonald asked Minister for Public Expenditure and Reform Brendan Howlin if he heard the voices of the people on the streets yesterday.
She said the message was clear and simple - abolish water charges or call a General Election.
In response, Minister Howlin said the protest was a very powerful and peaceful manifestation on the streets of Dublin.
However, he said more than 90,000 people have registered with Irish Water since the revised package was announced.
Water Charge Protest: As it Happened
Elsewhere, Tánaiste Joan Burton said the Government has been listening very carefully to what people have been saying about water charges.
She said the current package offered certainty in relation to the overall cost.
Ms Burton said a lot of people who were concerned about charges were scared by some of the figures used by those campaigning against the charges.
Meanwhile, Labour senator John Kelly has described a protest by a few hundred people on O'Connell Bridge in Dublin yesterday as "unacceptable" and "outrageous carry on".
He said it was led by "thugs of the highest degree" who brought the city to a standstill and spat at gardaí who tried to move them.
Mr Kelly said these people want to do nothing in Ireland except create anarchy.
Independent Senator David Norris said to characterise the protesters as thugs was ridiculous.