More than 1,300 speeding cases have been dismissed in district and circuit courts in the past five years, according to figures from the Department of Justice.
The cases of speeding were caught on both privately operated and garda speed cameras.
The figures were released to Fine Gael Limerick TD Patrick O'Donovan recently.
As a member of the Dáil's Transport Committee, he has asked the committee chair John O'Mahony if a review of the operation of 'Go Safe' vans can be carried out.
This comes following the dismissal on Monday of all speeding cases involving 'Go Safe' vans at Monaghan District Court.
Judge Sean MacBride, who presides over cases in counties Cavan and Monaghan, said the speed detection vans, operated by a private company, were "bringing the law into disrepute".
Since it began five years ago, the outsourcing of speed detection by gardaí has been controversial.
Judge MacBride has thrown out all prosecutions before Monaghan District Court involving 'Go Safe' vans, saying "the chain of evidence was inherently flawed" and there were "defects in the serving of the summonses".
'Go Safe' vans are operated by a private company, on behalf of An Garda Síochána.
Judge MacBride said they often operated just inside or outside 30km/h zones, in places where detecting offences was like fishing in a "goldfish bowl".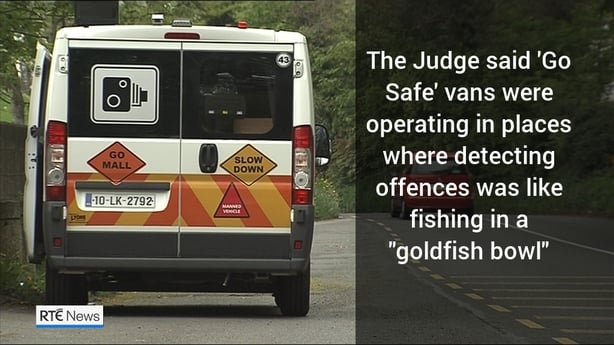 This was rejected by an inspector from the Garda Fixed Penalty Office, who was adamant they were in "black spot" areas and "saving 25 lives a year on Irish roads".
The ruling is the latest setback for 'Go Safe' vans, coming after the dismissal of 98 such cases in Co Clare last month.
A spokesperson at the Department of Justice has said it has asked garda authorities for a report on the speeding cases dismissed by Monaghan District Court earlier this week.
Separately, the department confirmed that it has received an initial report in relation to almost 100 cases dismissed at Ennis District Court.
The report outlines the issues raised in court and notes that gardaí are seeking legal advice regarding the decisions in those cases.