Former tánaiste Mary Harney has strongly denied she shut down an inquiry in her department because it linked her predecessor as leader of the Progressive Democrats with tax evasion.
Des O'Malley was one of a number of former ministers named in the Dáil today by Sinn Féin's Mary Lou McDonald as having held Ansbacher accounts.
Speaking to RTÉ News, Ms Harney said that at no stage was she ever influenced by any of the many names that were brought to her attention as part of an investigation into Ansbacher accounts.
She said she was sure the minutes of departmental meetings would confirm that she made it clear that, regardless of who might have been involved in any alleged wrongdoing, it had to be investigated correctly and thoroughly.
Five former ministers today denied they held Ansbacher accounts after being named under privilege in the Dáil by Ms McDonald.
She said there needed to be a Government investigation into claims by a whistleblower after the Public Accounts Committee had been told it could not explore his allegations.
Ansbacher accounts were used by prominent figures, including former taoiseach Charles Haughey, to evade tax in the 1990s.
Mr O'Malley along with former Fianna Fáil ministers Ray MacSharry, Gerard Collins and Máire Geoghegan-Quinn, and former Fine Gael minister Richie Ryan have all denied ever having Ansbacher accounts.
Mr MacSharry also denied ever having a Guinness and Mahon account and said he has been in touch with his lawyers to see what could be done about the claims.
Mr Collins, Ms Geoghegan-Quinn and Mr Ryan also denied having Guinness and Mahon accounts.
The Sinn Féin deputy leader denied that her actions in the Dáil were an abuse of privilege.
Speaking earlier during Leaders' Questions, Ms McDonald alleged the whistleblower investigation into offshore accounts and tax evasion was terminated once Mr O'Malley was found to be involved.
She named a number of individuals including Mr O'Malley and "an S Barrett".
Ceann Comhairle Seán Barrett reprimanded Ms McDonald for making such allegations in the Dáil and said that the "S Barrett" mentioned did not relate to him.
Ms McDonald said: "I emphasise these are allegations but they come from a very credible source.
"And the whistleblower alleges Des O'Malley, Ray MacSharry, Gerard Collins, Máire Geogheghan-Quinn, an S Barrett, Richie Ryan (a former minister for finance) and others..."
Mr Barrett interrupted her to ask if she was making allegations in the chamber, and Ms McDonald said: "I am echoing the very serious allegations that have been brought forward by the whistleblower."
The Ceann Comhairle said: "I wish to state quite categorically in case anybody is under any doubts when you say S Barrett, it doesn't apply to me."
Ms McDonald asked if the whistleblower would be allowed to conclude his investigations given the serious nature of the allegations against these named persons, and that the Public Accounts Committee could not investigate.
She said the PAC had been told last night that it could not investigate the claims in the report.
Taoiseach Enda Kenny acknowledged the legal advice received by the PAC yesterday and said the whistleblower had been protected by legislation.
He said the garda fraud squad investigation unit had made a request for a witness statement to be forwarded to it.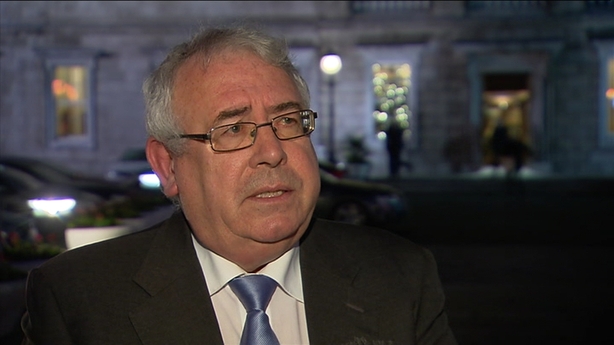 Labour TD Joe Costello said this evening that Ms McDonald's behaviour called into question her suitability to serve on the PAC.
He said it was damaging to the work of the committee for a member to name people mentioned in the dossier against whom nothing has been proved and it undermined the work and trust of the committee whose members, including Ms McDonald, had agreed on a particular way forward.
Five former ministers deny allegations
Mr O'Malley said in a statement that he "never had what is called 'an Ansbacher account'".
He said the list and the allegations have been "extensively investigated already by the Revenue Commissioners, the gardaí and the Moriarty Tribunal".
Mr O'Malley said the reason he was on the list was that he had a particular form of account with Guinness Mahon Bank.
After taking up the position of minister for industry and commerce in 1977, he said he became aware that he had shares in some companies he would be dealing with and in order to avoid a conflict of interest he put the assets in a blind trust, operated by the Guinness Mahon Bank.
He received dividends annually and paid tax on these in Ireland.
Mr O'Malley said in the statement that his "tax affairs remain in full compliance with the Revenue Commissions".
He also added that he "never had any dealings with the late Des Traynor while he was at that bank or any other".
In a statement this afternoon, Mr MacSharry said: "It is outrageous that anybody can make such wild allegations when there is no foundation whatsoever as far as I'm concerned."
The former tánaiste said he "never had an Ansbacher account or a Guinness and Mahon account".
He added in a statement that he "never benefitted from any Ansbacher or Guinness and Mahon account and I have been in touch with my lawyers to see what options are open to me particularly in relation to the question of privilege of this information and those who are using it".
In a statement, Ms Geoghegan-Quinn said: "I have never had an Ansbacher account. Neither have I ever had an account with Guinness and Maho."
Mr Collins also issued a statement today, saying: "I have never had or held an Ansbacher account or Guinness and Mahon bank account and I would welcome any investigation into this matter."
This evening, Mr Ryan, a former finance minister, "emphatically denied" ever having an Ansbacher account or an account with Guinness and Mahon.
He said he was "a total stranger" to the allegations and said he totally and strenuously denied the claims.
Ms McDonald said she named the individuals because she hoped it will lead to a full and proper inquiry into the matter.
Speaking on RTÉ's News at One, she said that following legal advice, the PAC could look at the matters in narrow terms and that by naming the individuals in the Dáil she hoped it would set the scene and create the atmosphere in which an appropriate mechanism of investigation was established.
She said the persons named were entitled to their good name, but that senior political public figures still in receipt of State payments, through pensions, should be investigated fully.
Ms McDonald said that the whistleblower wished to resume and complete his investigation and that this would be helpful in terms of finishing out the investigative work initiated.
She said matters such as political stalling, interference and obstruction should be investigated by an independent review, initiated by the Taoiseach.
Inquiry was established in 1998
The inquiry into Ansbacher accounts used to evade tax was set up under authorised officer Gerard Ryan in 1998.
Ms Harney told RTÉ News this evening that she had been concerned about the slow progress of his investigation from 2001 onwards, but that she had repeatedly been told his work was at an advanced stage.
She said she ultimately asked him to complete it in 2004 because she knew she was to move in a reshuffle and wanted the report finalised before she left the Department of Enterprise and Employment.
The former minister also responded to suggestions that Mr Ryan had been given bonus payments to encourage him to terminate his investigations.
She said they arose when he expressed disappointment at not being appointed head of the Office of the Director of Corporate Enforcement and wrote resigning as authorised officer.
The payments were made to encourage him to resume his work.