Taoiseach Enda Kenny has said that Ireland's economic success risks being ruined if a group involving Sinn Féin was to lead the next government.
Mr Kenny was speaking in the Isle of Man following a meeting of the British-Irish Council.
Minister for Finance Michael Noonan also said that with 15 months to go until the general election, the choice facing the electorate was either a Sinn Féin-led left-wing government or the present coalition.
Sinn Féin leader Gerry Adams responded to Mr Kenny's comments, saying he should resign and call an election.
Mr Kenny said the picture was becoming clearer and the choice at the next election would be between a government led by Fine Gael or a group possibly led by Sinn Féin.
Mr Kenny warned that people needed to reflect on that and ask themselves did they want a government focused on prosperity, growth and jobs, or did they want one that had the potential to ruin all the gains the country had made by insisting people did not have to pay for anything.
He reiterated his pledge to continue to reduce income tax rates if returned to power.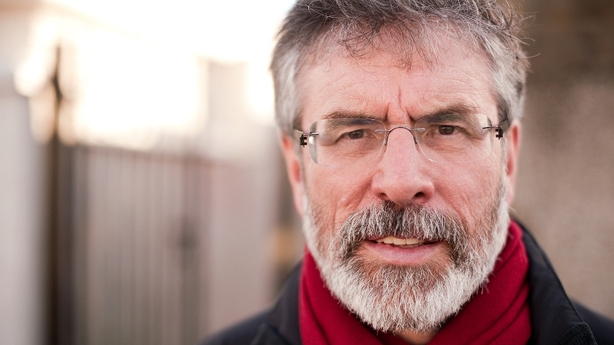 But in a statement, Mr Adams said: "I believe that citizens want a change from the conservative politics of Fine Gael and Fianna Fáil and Labour and are open to voting for genuine republican politics.
"Since taking office Fine Gael and Labour under Enda Kenny's leadership has stumbled from one debacle to another.
"Their policies have been rejected and the Government now faces widespread public anger.
"Government support has now been eroded beyond the point where they can claim a mandate for what they are doing."
Speaking on RTÉ's Six One, Mr Noonan said there was a clear left-right divide in Irish politics.
He said Fianna Fáil were still not relevant to the current debate because Eamon Ó Cuiv was pulling the party towards an alliance with Sinn Féin.
Mr Noonan said that the Government was using taxation to bed down the recovery and create jobs and that, if looking at the choices that were emerging for the electorate, the best way to see the difference was the attitude to taxation.
"Strategically, I think, it's been a very important couple of weeks because 15 months off the next election, the choice facing the people is already presenting very clearly. It's either a government of the left - extreme left led by Sinn Féin - or the present Government."
The minister said the main plank of the Budget was to put in place the conditions for deepening the economic recovery.
Mr Noonan said unemployment was going down and this was a more credible performance than anywhere else in Europe.
Ireland had the highest growth rate of the 28 EU member nations and this was being translated into jobs, he added.
Kenny and Villiers differ on NI talks
Mr Kenny has differed with Northern Secretary Theresa Villiers on the prospects for the success of the all-party talks in Northern Ireland.
The Taoiseach said he was optimistic there would be agreement, predicting that he and British Prime Minister David Cameron could be in Belfast before Christmas.
However, the Secretary of State said that while the atmosphere had improved, she could not be confident of a successful outcome, particularly without movement on welfare reform.
Northern Ireland's Deputy First Minister Martin McGuinness said that while failure was not an option the challenges were huge.
He said the British government had to recognise that austerity was a dangerous option for a society emerging from conflict.
Mr McGuinness described the talks as a "sparring session" for the last few weeks, but said now was the time to get a deal as it would prove impossible after Christmas.
Northern Ireland's Finance Minister Simon Hamilton said the DUP had been clear that there was a need for movement on budgetary issues, welfare reform and governance.
However, he said he remained optimistic there could be progress.