A Loggerhead Turtle that was washed up on the Clare coast in November last year is set to return to warmer climes in time for Christmas.
The turtle, named Leona, will be jetting off to Gran Canaria on 2 December, after a long period of uncertainty due to difficulties in arranging transport.
When she was washed up in Clare she was suffering from severe bruising, a damaged shell and pneumonia and ended up in a coma for a few days.
She was found by a passer-by and was nursed back to health by the staff of Galway Atlantaquaria.
Loggerhead turtles are an endangered species, and are accustomed to waters with a surface temperature of 13-28C, so she could not be released in Irish waters.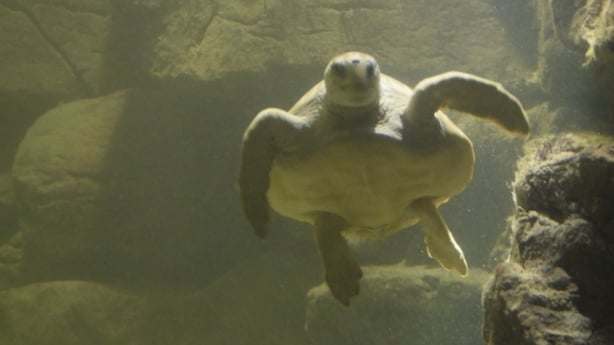 A turtle sanctuary in Gran Canaria has agreed to accept her and examine her before her release, which should be next week.
There were several issues in arranging transportation for Leona from Galway to Las Palmas, in particular regarding travel time and keeping her warm.
Earlier this month the Irish Whale and Dolphin Group put out an appeal to find an owner of a private jet willing to transport the turtle from Ireland to the Canary Islands.
The Galway Atlantaquaria and Dublin Zoo have finally been able to make suitable travel arrangements with Aer Lingus agreeing to fly the turtle and two of her carers directly to Las Palmas.
Leona has been fitted with a GPS and her progress can be followed on a special webpage and on Twitter.