An assessment of the Government's revised water charges will be carried out by the European Commission as part of its review of Ireland's progress after the EU IMF bailout.
The Troika has been in Dublin this week meeting Government officials and staff from the Central Bank and Nama.
Sources close to the commission said there was surprise at the changes to Irish Water's fees as officials had expected earlier plans would be implemented.
Questions were also raised about the use of flat charges for supplies.
Its assessment of the new regime for charging for water will be published as a part of its overall economic review in January.
However, the commission is understood to be happy with Ireland's economic growth, improvement in unemployment and falling mortgage arrears. 
It is understood the commission is confident Ireland will meet its deficit reduction targets.
However, sources said it would have wished to see more money spent reducing Ireland's national debt in the Budget.
Irish Water MD confirms court action will not be taken against those who don't pay their water bills
Irish Water Managing Director John Tierney has confirmed that court action will not be taken against those who do not pay their water bills.
He said the company intends to use the new provisions of the legislation to put a charge on the property, and he said the company does not envisage a situation where they would be taking people to court.
Mr Tierney said Irish Water will be aiming for the maximum compliance with charges similar to other utility companies, which currently stand at around 90%.
He said the aim of the company is to work with people so there is no necessity for penalties or to go to landlords to collect the charges.
In relation to those who cannot pay he said the company would work with them on payment plans so they could pay their bills over time.
He also said the decision to have people's PPS numbers was well intentioned in terms of the allowance system that was in place at the time.
Meanwhile, at the request of the gardaí, Joan Burton has given a statement following a protest over water charges in Jobstown in Dublin  last week, which saw the Tánaiste locked in her car for more than two hours.
He said Irish Water is talking to the Data Protection Commissioner to establish the parameters in relation to destroying the PPS numbers given to the company.
Mr Tierney said there was a lot of work to be done in relation to that as they had received 870,000 responses from householders.
But he hopes they will be in a position to destroy the numbers in the next seven or eight weeks.
In relation to concerns by unions over the decision not to pay staff performance related payments for 2013 or 2014, he said it was a very difficult decision but, he added, the payment of the awards is at the discretion of the company.
He added he was very sorry that people started to think that the company was putting pay before people.
The company is looking at the pay model for 2015 with a view to bringing back recommendations to the board and unions will contribute to that, he said.
His experience of staff is one of absolute commitment, he said, and he would be hopeful that would continue.
The regulator has said that Irish water must cut its costs by 14% by the end of 2016, which he described as "significant".
Mr Tierney said the company is currently working with the local authorities and he expects there will be up to a 10% reduction in local authority staff that Irish Water pays for through service level agreements in 2015.
This would represent a reduction of around 430 local authority staff.
Kelly does not want jail sentences for non-payment
Minister for the Environment Alan Kelly earlier said he does not want to see anyone ending up in jail if they fail to pay their water charges.
Mr Kelly was speaking on RTÉ's Morning Ireland a day after announcing a revised scheme for water charges.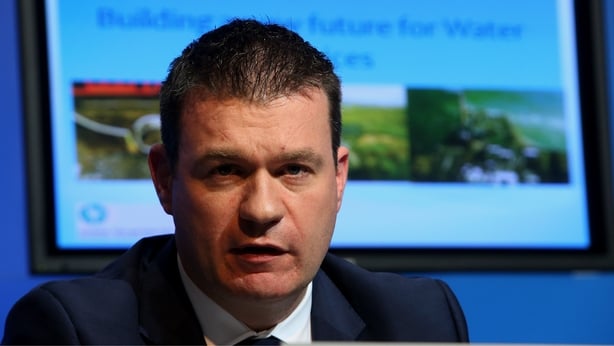 Mr Kelly acknowledged that Irish Water would have the right to take people to court for not paying their bills, but said "it's not a road I believe they should go down too much".
He said the sanctions for not paying bills would be applied 15 months after the first bills were issued.
The minister also said he would meet landlords to discuss the charges and would be introducing legislation to allow landlords to deduct unpaid water charges from their tenant's deposits if necessary.
Mr Kelly announced yesterday that charges will be capped for a single-adult household at €160 and for others at €260.
Households that register will get a €100 Water Conservation Grant each year, resulting in net charges of €60 for a single adult household and €160 for other households.
Members of group water schemes and owners of wells will have to register with Irish Water to claim the grant.
The starting date for the charges is 1 January and bills will be charged from April next year.
There will be penalties for those who do not pay after a year or do not enter into a payment plan.
A single-adult household will face a €30 penalty and €60 will apply to other households.
The capped charges will be in place until 1 January 2019, with legislation to allow for capped charges to continue after 2019.
Households with either water or sewage-only services will pay 50% of the charges.
Those with meters who use less will get a once-off rebate.
People now have until 2 February to register.
Landlords do not want to collect water charges
A spokesperson for the Residential Landlords Association has said if legislation allowing landlords to deduct unpaid water charges from tenants' deposits goes ahead, deposits will have to be doubled or even trebled.
Fintan McNamara said landlords did not want to be in the position where they were collecting water charges.
He said there was no reason why water charges should not be collected as other utility bills are, where the tenant has a unique identity number and account that is carried from one accommodation to another.
Mr McNamara said his group had been told six weeks ago by Irish Water that this was how the system of water charges would work, and that landlords would have no role in it.
He said his organisation was very anxious to speak to the minister about this and other issues affecting the residential rented sector.
Meanwhile, Anti-Austerity Alliance TD Paul Murphy said he believes people will continue to resist the water charges and there will be a "massive boycott" when the first bills come in.
Also speaking on Morning Ireland, Mr Murphy said the package announced by the Government would not diminish the campaign to abolish the charges.
He said: "People are no longer afraid of the Government. They're increasingly aware that the Government is afraid of them."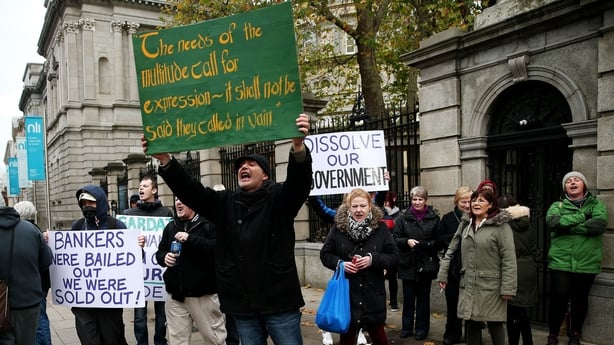 Tánaiste Joan Burton told the Dáil today she is very confident that Irish Water will pass State aid rules that will be scrutinised next year by the EU statistics agency, Eurostat.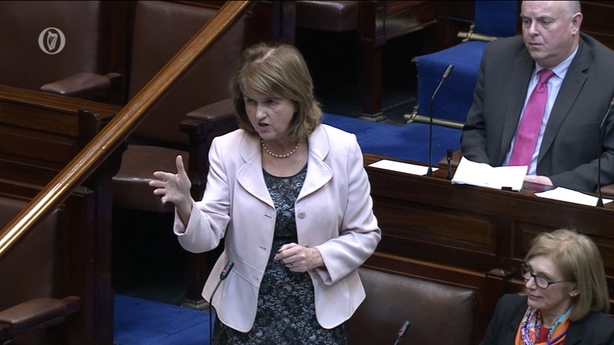 However, Minister for Communications Alex White said there is a risk as to whether the €100 Water Conservation Grant will pass the market corporation test, but he added that he was confident it would.
Under the rules, 51% of Irish Water's revenue must come from charges.
During Leaders' Questions Fianna Fáil Environment Spokesperson Barry Cowen pressed the Tánaiste on whether Irish Water would pass State aid rules and if there was a "Plan B".
Ms Burton said she was confident it would and said the results would be known around April.
Sinn Féin Deputy Leader Mary Lou McDonald said people had not marched for concessions, but for the abolition of the charges.
Minister for Public Expenditure and Reform Brendan Howlin said there are people who do not want to pay for water even though they know there is a cost associated with providing it.
People Before Profit TD Richard Boyd Barrett told the Dáil that something that has not come out is a directive from the Department of the Environment to local authorities and warned that Irish Water arrears will be taken out of council tenants' rents.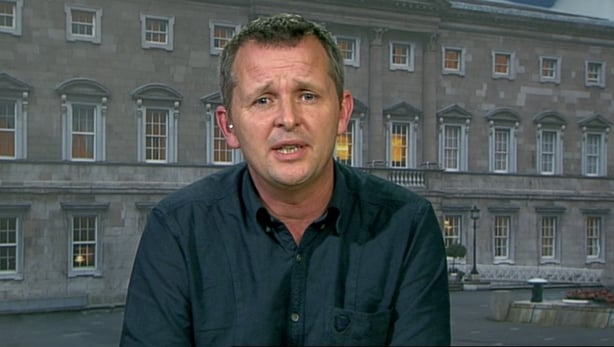 TDs also debated a private members' motion by Sinn Féin this morning, which proposed to ensure Irish Water is never privatised regardless of what political party is in power in the future.
Meanwhile, the Taoiseach has said he hopes people will reflect on the changes announced to water charges adding that while the Government had admitted mistakes on the issue,they had now fully addressed the issues that were causing concern.
Enda Kenny added while there may be some who do not want to pay this is why Government had sought to make what he called "the last national charge" as affordable and easy to pay as possible.