The anti-water charges group 'We Won't Pay' has insisted water bills will be met by a major boycott next year.
The group is led by Socialist Party TDs.
Joe Higgins said there was no carrot big enough to quell the anger of vast parts of the population.
Paul Murphy said people were not stupid and would not be bought off and he said water charges would be the big issue in the general election.
He said protesters had been vilified.
Ruth Coppinger said the property tax had been deducted from her salary as she had not paid.
Mr Murphy also said he had nothing to apologise for when asked if he would be saying sorry to Tánaiste Joan Burton.
He added that there was antisocial behaviour at Jobstown on Saturday but it was not part of the protest and any violence happened afterwards.
Mr Higgins said the campaign was a mass mobilisation movement without a defined membership.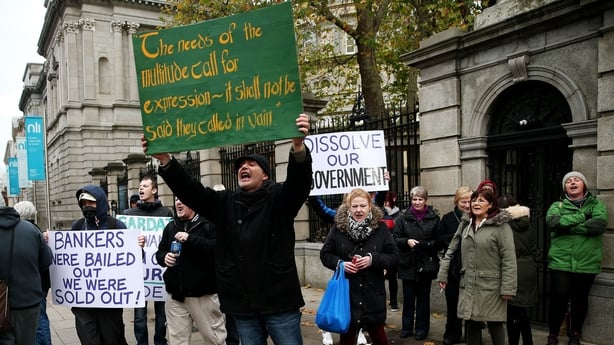 There were protests outside Leinster House during the afternoon debates.
Around 60 water charge protesters were also in a standoff with contractors in Donaghmede in Dublin.
Irish Water said 90 contractor staff were prevented from carrying out work in the Grange Road area.
The protest followed a similar action yesterday when workers with GMC/Sierra were prevented from leaving for nine hours.
At one point there were 13 vans parked on Grange Road and local protesters prevented vans from leaving by standing in front of them when they tried to move.
The vans and uncompleted meter installation sites have notices of a High Court order warning protesters not to interfere.