The Government is considering two measures to deal with people who do not pay their water bills.
The first would involve the introduction of legislation.
People would face penalties if they had not paid their water bills or entered into a payment plan after one year.
The second measure being considered is attaching the charges to a person's house, so the charges would remain if they want to sell their house.
A senior Government source said this evening that both measures are likely to be included in tomorrow's package on water charges.
The Cabinet met this morning as ministers discussed the revised water charges scheme.
The principle of a cap on water charges will be established in the legislation and the cap will run until at least the end of 2018, but could go beyond that point.
Taoiseach Enda Kenny has said primary legislation will be brought forward by the Minister for the Environment to "bolster the position" of Irish Water in the Constitution.
He told the Dáil that this will be done so it will be retained in public ownership and never privatised.
It became clear last night that the blow of the charges was likely to be softened by a decision to hold off on charging until the New Year.
This means the first bills will not arrive until spring 2015.
It is already apparent that the charging regime will be simpler and less onerous than first envisaged.
There are expected to be two rates: €176 for a single-adult household and €278 for a household of two adults or more.
All households will get a €100 rebate if they register with the Department of Social Protection.
Joan Burton says water conservation will come through fixing leaks and educating consumers #irishwater

— Colman O'Sullivan (@colmanos) November 18, 2014
Tánaiste Joan Burton said people would get a rebate if they can demonstrate that they used less water than they were billed for under the capped charge.
She said most water conservation would come from fixing leaks and educating people.
Around thirty anti-water charge protesters in Navan tonight for visit of Taoiseach. pic.twitter.com/GO5SIdBGf2

— Richard Dowling (@richardowling) November 18, 2014
Gardaí diverted to water protests - Fitzgerald
Minister for Justice Frances Fitzgerald has said gardaí have had to be diverted away from other functions to police anti-water charge protests.
Ms Fitzgerald was speaking during Minister's Questions in the Dáil this afternoon.
She said it was important to make a distinction between the dignified and peaceful water protests a number of weeks back and the other protests attended by a small number of people where workers are intimidated and prevented from carrying out their jobs.
silent protest by women at Coolock Garda station over alleged brutality to water protestors #rtenews #irishwater pic.twitter.com/lcUIH9lRby

— Joe Mag Raollaigh (@joemagraollaigh) November 18, 2014
Ms Fitzgerald said the chanting of the words 'peaceful protest' does not disguise the fact that intimidation, bullying, targeting of individual gardaí on social media, and detaining the Tánaiste against her will are not peaceful.
She said it is to stand reality on its head to say that the behaviour of the gardaí has been what has led to trouble at protests.
The minister said a small minority with their agenda have set out to cause as much trouble as they can.
Ms Fitzgerald was responding to a question from Socialist TD Ruth Coppinger regarding how much has been spent on policing water protests.
The minister added that regarding costs, what she is concerned about is garda time, the cost of equipment and vehicles and the potential cost to life.
Ms Coppinger said people have been aghast at the numbers of gardaí present at protests when victims of crime cannot access gardaí.
Sinn Féin is using its Private Members time this week to table a bill that seeks to change the Constitution to keep Irish Water in public ownership no matter which political party happens to be in power.
The Government is opposing the bill from Brian Stanley to amend Article 40 of the Constitution.
Mr Stanley said he recognised that the Government is not providing any privatisation in the near future, but it could happen unless it is written into the Constitution that it cannot be privatised.
Sinn Féin leader Gerry Adams said that the water tax is the final straw for families.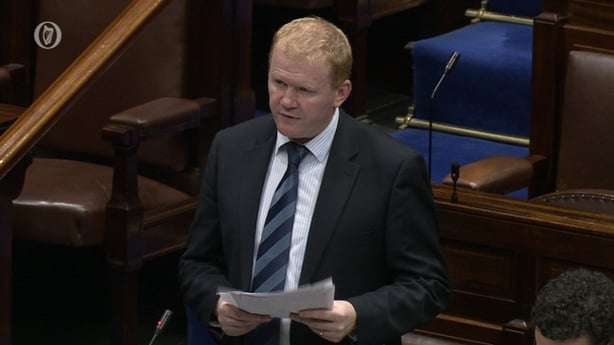 Minister of State Paudie Coffey has claimed in the Dáil tonight that "we have had a glimpse of anarchy on our streets".
Mr Coffey detailed a series of personal accounts of what water meter installers have had to endure.
He said meter installers were followed home and in one case and "this led to an assault that involved a meter worker being bitten".
"In the region of 50 assaults have been reported with workers being punched, kicked and headbutted. Hot water has been thrown on workers.
"Tyres have been slashed on a number of work vehicles, including at the homes of workers.
"Some protesters have driven their cars at metering staff and at barriers behind which metering staff are working or while they have been operating heavy machinery."
Earlier, Brendan Ogle of the Right2Water campaign urged those who cannot protest peacefully to stay away from a demonstration on 10 December about water charges.
Mr Ogle said those who could not protest peacefully are damaging the protest.
The campaign group is supported by five unions; Unite, Mandate, the Communications Workers' Union, the CPSU and the plasterers' union Opatsi.
A number of politicians, including Sinn Féin deputy leader Mary Lou McDonald, Mick Wallace, Clare Daly, Richard Boyd Barrett and Paul Murphy, were also in attendance at the meeting to announce details of the protest.
Kenny says people behind violent protests have 'sinister agenda'
Earlier, Mr Kenny said people behind violent protests against water charges have a sinister agenda.
His comments came after scuffles broke out as he arrived for a Fine Gael meeting at the Sligo Park Hotel last night.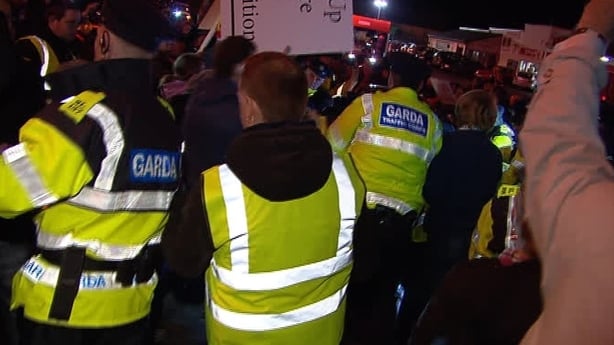 A number of protesters attacked and blocked Mr Kenny's car as he arrived at the hotel where the meeting was being held.
Mr Kenny, Ms Burton and Minister for Finance Michael Noonan have been confronted by protesters in the past few days.
Speaking to Ocean FM, Mr Kenny questioned the agenda of those who were protesting.
He said: "I know many of these people and their protest is not about water.
"It's a very different, more sinister agenda.
"And you don't protest about an issue in the way that they did. They blocked the entrance, they jumped on top of the car."
The Taoiseach later described the protesters in Jobstown, which resulted in the Tánaiste being unable to get out of a car, as people of different politics.
Mr Kenny said they were like "hounds after a fox" and he said their actions were "disgraceful".
Irish Water not a mistake - Kelly
Minister for the Environment Alan Kelly earlier said setting up Irish Water was not a mistake, but that mistakes were made in relation to charging and other issues.
Speaking on his way into the Cabinet meeting, Mr Kelly said he believes the Government could bring reasonable people with them with the package of measures due to be announced tomorrow.
Asked if he was confident enough would be done to quell public anger over water charges, Mr Kelly said he believes it is a very good package.
He said: "It's something we have worked on. We've listened to the people.
"I think a lot of mistakes were made. I'm very open about that.
"I think it is time now to put the package to the people, which I believe will bring reasonable people with us.
"Water has to be paid for. We need investment at a level that has never been seen before.
"Setting up Irish Water was not a mistake. There were a lot of mistakes made in relation to the charging and various other issues, but I think it was absolutely necessary."
Environment Minister Alan Kelly says mistakes were made in relation to water charges https://t.co/x3E8RkHgmo

— RTÉ News (@rtenews) November 18, 2014
GSOC investigating 16 protest-related complaints
The Garda Síochána Ombudsman Commission has confirmed that it is investigating 16 complaints relating to water protests.
The complaints cover a period of months and include allegations of assault and abuse of authority.
If the allegation is of assault, it is investigated as a criminal offence.
If the allegation is of abuse of authority, it is investigated as a possible breach of discipline.