The Tánaiste was stopped from leaving an event in Dublin this afternoon due to water charge protests, which prevented Joan Burton from leaving her car for more than two and a half hours.
Around 100 demonstrators hemmed in around Ms Burton's car, some chanting 'we won't pay.' It is understood some items were thrown during the blockade.
Gardaí managed to get Ms Burton out of one garda car and physically transferred her into an unmarked garda car. Some protesters chased after the vehicle as it left the scene.
Two people were arrested following the incident, one for public order offences and another for criminal damage.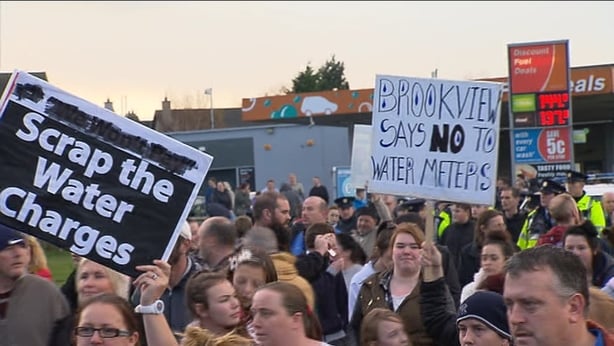 Speaking to RTÉ News following the blockade, Minister for Communications, Energy and Natural Resources Alex White said that Ireland is a democratic society where peaceful protest is highly valued, however, the incident involving the Tánaiste was anything but peaceful.
He said it was anti-democratic to try to trap somebody and stop them from going about their business.
Referring to Paul Murphy of the Anti- Austerity Alliance which organised the protests, Minister White said Deputy Murphy had no right to imprison people in the way he did.
Minister White said that as a representative of Dáil Éireann Deputy Murphy had a responsibility to ensure the principles of democracy are upheld.
This evening a spokesperson for the Tánaiste described today's protest as "outright intimidation and confrontation."
The spokesperson refused to comment on whether today's blockade will have any implications for security arrangements in future, saying it was a matter for An Garda Síochána.
RT @ColmHand: Joan Burton switching GARDAI vehicles after tense 2.5 hour protest ends in Jobstown #rtenews pic.twitter.com/i1v7qdbEwg @rtenews

— Sandra Hurley (@sandra_hurley) November 15, 2014
The Tánaiste had been attending a higher education graduation ceremony for students at An Cosán.
Her spokesperson said it was meant to be a day to celebrate their achievements and that the protests should not be allowed to overshadow what was a very important and significant day for those graduates.
Car reaching the junction of the Jobstown rd and N81... Protestors moving to let car through pic.twitter.com/lbBMU7NDW4

— Sandra Hurley (@sandra_hurley) November 15, 2014
Gardai trying to push car forward inch by inch. Protestors not moving. Car stuck for over an hour.

— Sandra Hurley (@sandra_hurley) November 15, 2014
Car has moved about two metres ..two helicopters overhead, dozens of Gardai, a few eggs being thrown. 'we won't pay' pic.twitter.com/PD1TU0JYLj

— Sandra Hurley (@sandra_hurley) November 15, 2014 
Public order unit moving in pic.twitter.com/aPfYPkWFQN

— Sandra Hurley (@sandra_hurley) November 15, 2014