Tens of thousands of people have demonstrated across the country against water charges.
The Right2Water campaign has said 150,000 people turned out for today's protests.
Organisers said numbers far exceeded predictions. They put the figure for rallies in Dublin at over 40,000.
More than 100 anti-water charge demonstrations were held in towns and cities nationwide.
Up to 10,000 protesters took to the streets of Cork city as part of the nationwide campaign.
Unofficial estimates put the crowd on O'Connell Street in Dublin at up to 10,000.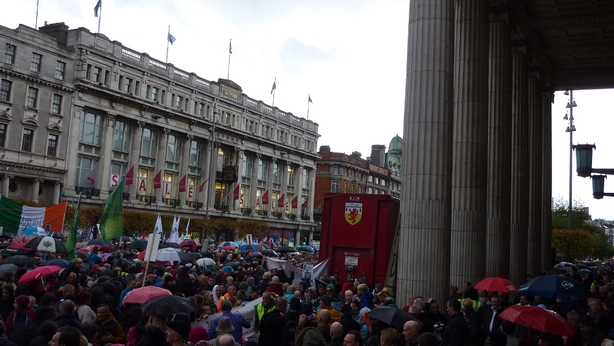 There were up to 8,000 marchers in Drogheda, 8,000 to 10,000 in Letterkenny, over 5,000 in Dundalk, 5,000 in Limerick, 5,000 in Waterford, 4,000 in Sligo, 2,500 in Galway, 2,000 in Kilkenny, and 2,000 in Wexford.
Gallery of protests across the country
The Cork city march, which attracted people from throughout the county, took over 40 minutes to pass along the South Mall, one of the city's main thoroughfares.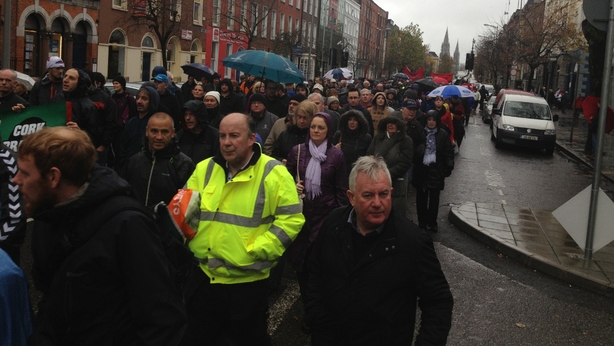 Many had travelled from other marches in outlying towns to attend the city march, which was addressed by a number of community activists.
An estimated 8,000 to 10,000 people took to the streets of Donegal's largest town, Letterkenny.
Protesters carried a variety of banners and chanted various slogans as they left the Government in no doubt that the introduction of water charges has hit a raw nerve.
The Letterkenny rally was the biggest seen in the town for decades.
Some traders, while sympathetic to the right to protest, pointed out that they lost thousands of euro in business as a result of the demonstration.
A number of speakers addressed the crowd at the end of the march, which began on the Port Road and went through the centre of the town to the Market Square.
A number of people brought forward their Irish Water registration forms which were burnt in a barbecue to cheers from the crowd.
The 5,000 demonstrators in Limerick gathered at Bedford Row. 
Speakers urged the crowd to take part in a nationwide campaign of resistance and to start groups in their own neighbourhoods.
About 5,000 braved the weather in Waterford to march through the city to show their opposition to the water charges.
In Co Kerry, over 2,500 people marched in Tralee - six times the number who took to the streets there last week.
Organisers said today showed the strength of public opposition to water charges in communities up and down the country and they say they intend to keep up the pressure on the Government to abolish domestic water charges.