Pressure on Sinn Féin leader Gerry Adams over the Maíria Cahill controversy shows no sign of abating with the Dail now set to debate her allegations.
Government Chief Whip Paul Kehoe said the Dáil will debate the case on 4 or 5 November.
Earlier, Taoiseach Enda Kenny met Ms Cahill for 90 minutes in Government Buildings.
He said he would facilitate "a comprehensive debate on the matter" and predicted that the allegations made by Ms Cahill would have serious consequences.
Ms Cahill claims she was raped as a teenager in 1997 by a member of the IRA and later interrogated by the organisation.
The Cahill allegations led to heated exchanges during Leaders' Questions in the Dáil.
Mr Kenny said Ms Cahill was a courageous, confident and brave young woman who is a force to be reckoned with.
He said: "Her control was taken from her. She never ceded her own power and it's that power and sense for truth that brought her to Government Buildings this morning."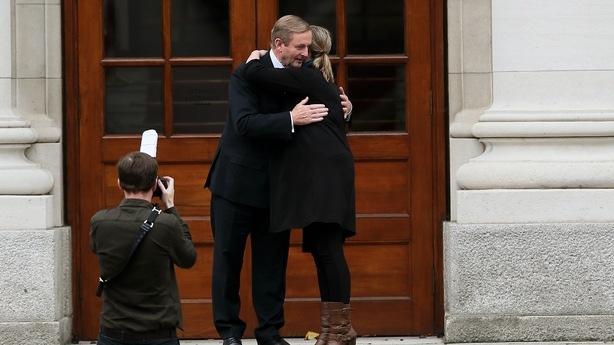 Mr Kenny said it was "reprehensible" that Ms Cahill "could be kicked about deliberately".
He suggested that Sinn Féin leader Gerry Adams could confirm that Ms Cahill had to meet the IRA about the matter.
Mr Kenny asked if Mr Adams was aware of any people moved to "this jurisdiction" - Donegal or Louth - who were involved in sexual abuse of women in the North and who were still in the Republic.
"You might indicate if you know anything about that because the story Maíria Cahill has to tell is not just powerful, but it will have serious consequences," he said.
The Taoiseach said he found it unbelievable Mr Adams would come into the house of parliament and say that the person who abused Ms Cahill was a decent person.
However, Mr Adams said that he had not said that.
The Sinn Féin president this evening reiterated his rejection of allegations made against him by Mr Kenny and Fianna Fáil leader Micheál Martin.
"I want once again to reject in the strongest possible terms, entirely malicious and spurious allegations by the Taoiseach and the Fianna Fáil  leader that I have any information regarding abusers being moved from the North, across border to this jurisdiction or anywhere else.
"If anyone - and that includes Mr Kenny or Mr Martin - have information regarding the whereabouts of anyone who is a potential threat to members of the community, they should make that information known to An Garda Síochána."
Earlier, the Sinn Féin leader said the IRA had failed the victims of sex offenders and he wanted to apologise to those victims.
Meanwhile, Ms Cahill has said Mr Kenny listened sensitively to her story when she met him this morning.
Mairia Cahill after meeting with Taoiseach. Says he handled it sensitively. pic.twitter.com/TY1so7Oxuv

— Sandra Hurley (@sandra_hurley) October 22, 2014
She said she felt vindicated that Mr Adams had admitted there was an internal IRA investigation into her allegations of rape.
She described her meeting with the Taoiseach as very useful and said it was exactly how a victim of sexual abuse should be listened to.
She later told RTÉ's News At One that it was in stark contrast to the treatment she had at the hands of Sinn Féin this week.
Ms Cahill said she would like to thank the Taoiseach for his compassion, for listening intently and for agreeing to do something about her situation.
She also asked him to find extra resources for victims of sexual abuse across the country whether they were treated badly by the republican movement or not.
However, Mr Adams has insisted again that he was not aware of an IRA investigation into her case.
Asked about Sinn Féin disputing that Mr Adams admitted there was an internal investigation into her case, Ms Cahill said he had very clearly said it yesterday.
She said she would only meet Sinn Féin now if it admitted she was telling the truth.
Solicitors say rule of law subverted by 'trial by media'
The four people who were charged following a police investigation into claims of a republican cover-up of Ms Cahill's rape allegations issued a statement this evening.
Madden & Finucane Solicitors said their clients had been subject to unprecedented media onslaught following the BBC Spotlight programme.
The solicitors said the cases against the four were the subject to an intensive and lengthy high-ranking police investigation, adding that Ms Cahill was "afforded every available resource the State could offer".
The charge against one of them of IRA membership was dismissed by the court. Other charges put against them would have been contested, according to the solicitors.
However, Ms Cahill was to have been cross-examined as the main prosecution witness. This did not happen and her claims could not be probed. Therefore, the accused were found not guilty, the solicitors said.
"In any normal society, that would be the end of the matter and my clients should have been permitted to go back to their normal lives. However, the rule of law has been subverted by the ongoing trial by the media against my clients," they said.
They said that has resulted in their acquittals either being ignored or devalued.