Tens of thousands of people protested in Dublin city centre this afternoon against water charges.
The Right2Water Campaign is calling for the charges to be scrapped and is backed by left-wing opposition parties as well as several trade unions.
The turnout for this march was far higher than had been expected.
A garda source estimated the attendance at 30,000, however, the organisers claim it was considerably higher.
The marchers came from all over Ireland, with many of those present in the city centre today having been involved in local protests in their own areas.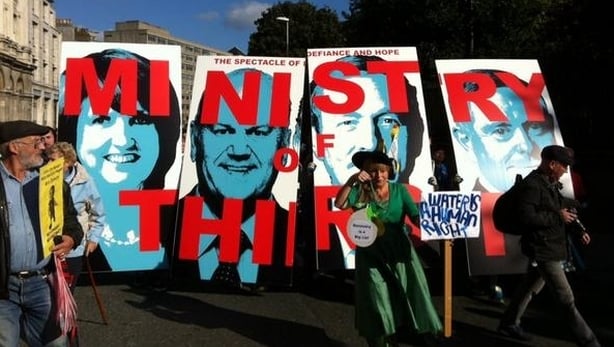 Some of the platform speakers called for people not to pay their water charges, but the official position of the Right2Water Campaign is that each householder must make up their own mind.
The message the organisers wanted to send to the Government was that water is still a live issue and they still believe they can get the charges abolished.
Protesters assembled at Parnell Square before marching down O'Connell Street towards Dáil Éireann on Kildare Street.
They then returned to O'Connell Street for speeches outside the GPO.
Traffic diversions were in place in the area and Luas Red Line services were restricted during the march.
Meanwhile Tánaiste Joan Burton was asked about water charges relief, she said people who get their household benefits package in their social welfare payments on a quarterly basis will also receive the €25 relief payment.
Ms Burton said she also hopes Irish Water will provide an easy pay option for older people.
She said her officials have been discussing that with Irish Water because she wants to make it easy for people to comply.