Two Ryanair planes came into contact with each other at Dublin Airport this morning, leading to minor delays.
The wing tips of the two aircraft clipped each other as one was taxiing to a stand.
No passengers were injured in the incident.
Fire tenders were deployed as a precautionary measure.
The damage @DublinAirport @Ryanair pic.twitter.com/DLD3sEQDPN

— Emily Carroll (@EmzCarr) October 7, 2014
A spokesperson for the Dublin Airport Authority said the airport is fully operational, although there were "minor" delays to some flights.
She said the incident happened on a taxi-way area and the main runways are not affected.
The spokesperson said this section of airport would be off-bounds for aircraft for a time, and it would mean departing and arriving planes would take a slightly longer route to and from runways.
Andrea Cunningham, who was on one of the flights, which was destined for Edinburgh, said passengers remained on the planes for about an hour before they disembarked.
Investigators from the Air Accident Unit arrived at the site.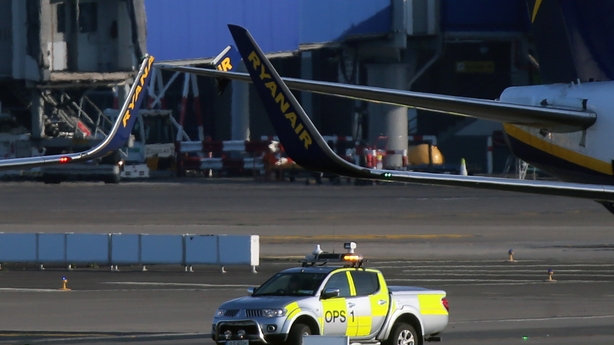 In a statement this afternoon, Ryanair said: "Two of our aircraft were taxiing slowly to the runway at Dublin Airport this morning.
"The winglet of one aircraft appears to have scraped the tail of the other.
"Both aircraft were under the instruction of Dublin Airport Air Traffic Control at the time.
"There was no impact on customers on board and Ryanair contacted the IAA and worked with them to return both aircraft to stand.
"Affected customers disembarked, were provided with refreshment vouchers and boarded two replacement aircraft, which departed to Brussels Charleroi and Edinburgh later this morning.
"Ryanair apologises sincerely to customers for any inconvenience.
"Both aircraft are being repaired by Ryanair engineers and will be returned to service shortly."
Ryanair Chief Marketing Officer Kenny Jacobs described the incident as "not that big an incident, and passengers need not be concerned about safety".
Mr Jacobs was speaking in Limerick as the airline outlined its new summer schedule for Shannon in which it will increase the frequency of its 19 flights there, which it says will give an 18% increase in passenger numbers to 125,000.
He said the wing tip of one of the aircraft made contact with the tail of another lightly.
He said passengers were taken off both aircraft and given refreshment vouchers.
Both aircraft are being repaired and are expected to be back in service in a number of days.
He said passengers should "absolutely not" be concerned or worried about safety.
Mr Jacobs said a member of his Ryanair team was on board the aircraft and that customers would barely have noticed the incident.
He said with 1,600 flights a day these things happen, adding that the airline had a 29 year impeccable safety record and that will continue.
He said passengers were accommodated on other aircraft to reach both Edinburgh and Charleroi airports this morning.