Riot police have advanced on Hong Kong democracy protesters, firing volleys of tear gas that sent some fleeing, as others erected barricades to block the security forces, amid chaotic scenes in the former British colony.
Earlier, police baton-charged a crowd blocking a key road in the government district in defiance of official warnings that the demonstrations were illegal.
Several scuffles broke out between police in helmets, gasmasks and riot gear, and demonstrators angered by the tear gas, last used in Hong Kong in 2005.
"If today I don't stand up, I will hate myself in future," said taxi driver Edward Yeung, 55, as he swore at police on the frontline. "Even if I get a criminal record it will be a glorious one."
White clouds of gas wafting between some of the world's most valuable office towers and shopping malls underscored the struggle China's Communist Party faces in stamping its will on Hong Kong's more than 7 million people.
The unrest is the worst since China took back control of Hong Kong from Britain in 1997.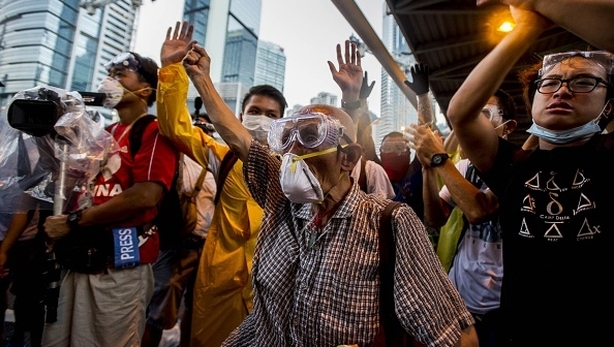 Eight years earlier, Beijing's bloody crackdown on pro-democracy students in Tiananmen Square in 1989 had sent shockwaves through Hong Kong as people saw how far China's rulers would go to maintain their grip on power.
Thousands of protesters were still milling around the main Hong Kong government building, ignoring messages from student and pro-democracy leaders to retreat for fear that the police might fire rubber bullets.
Key arteries leading to the Central business district were blocked early on Monday, which was expected to cause traffic chaos and make it difficult for commuters to get to work.
The protests later fanned out to the busy shopping district of Causeway Bay and across the harbour to Mong Kok, posing a greater challenge for authorities to contain, local media reported.
The protesters brought traffic to a halt and called on Hong Kong leader Leung Chun-ying to step down.
Police, in lines five deep in places, earlier used pepper spray against activists and shot tear gas into the air.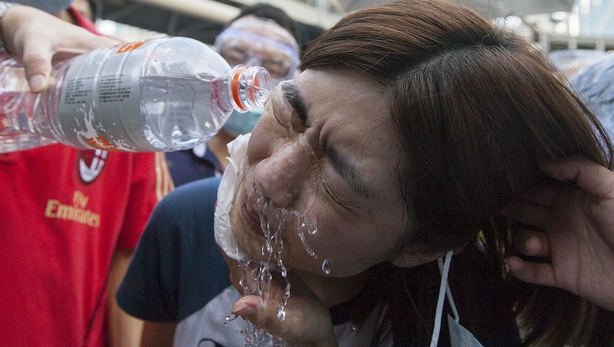 The crowds fled several hundred yards, scattering their umbrellas and hurling abuse at police they called "cowards".
Britain returned Hong Kong to Chinese rule under a formula known as "one country, two systems" that guaranteed a high degree of autonomy and freedoms not enjoyed in mainland China.
Universal suffrage was set as an eventual goal.
But Beijing last month rejected demands for people to freely choose the city's next leader, prompting threats from activists to shut down the Central business district.
China wants to limit elections to a handful of candidates loyal to Beijing.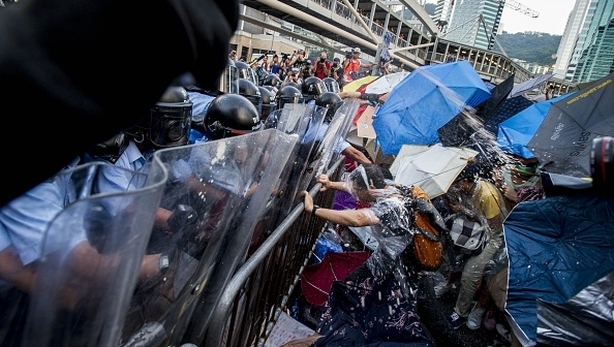 Communist Party leaders in Beijing are concerned that calls for democracy could spread to cities on the mainland.
In a move certain to unnerve authorities in Beijing, media in Taiwan reported that student leaders there had occupied the lobby of Hong Kong's representative office on the island in a show of support for the democracy protesters.
Hong Kong leader Leung had earlier pledged "resolute" action against the protest movement, known as Occupy Central with Love and Peace.
"The police are determined to handle the situation appropriately in accordance with the law," Leung said, less than two hours before the police charge began.