The judge in the Oscar Pistorius trial has cleared the athlete of charges of premeditated murder and second-degree murder.
"The state clearly has not proved beyond reasonable doubt that the accused is guilty of premeditated murder," Thokozile Masipa said in court in Pretoria, South Africa.
Mr Pistorius can still be found guilty of culpable homicide or acquitted when the judge resumes her verdict tomorrow morning.
The Olympic and Paralympic athlete is accused of killing his girlfriend Reeva Steenkamp on Valentine's Day last year.
He said he shot her after mistaking her for an intruder at his home near Pretoria.
The prosecution alleged that he intentionally murdered her after a row.
In delivering part of her verdict today, the judge said Mr Pistorius acted "too hastily and used excessive force" and made a "conscious decision to shoot".
She said: "In the circumstances it is clear his conduct is negligent. The accused had reasonable time to reflect, to think and conduct himself reasonably."
Judge Masipa also said she was "not persuaded" that a reasonable person with his disabilities would have fired shots.
Earlier, she said some witnesses in the murder trial failed to separate their own evidence from details contained in press coverage.
Judge Masipa found there was "some doubt" a woman screamed on the night of the shooting.
The judge is determining Mr Pistorius's fate alone as South Africa does not have trial by jury.
The 27-year-old double-amputee also faces firearms charges.
The case has heard from scores of witnesses and captivated a global audience with dramatic and heartbreaking scenes.
In one night, Mr Pistorius was transformed from a global sporting icon to murder suspect.
A little more than six months before the shooting, he made history at London 2012 by becoming the first amputee sprinter to compete in the Olympic Games.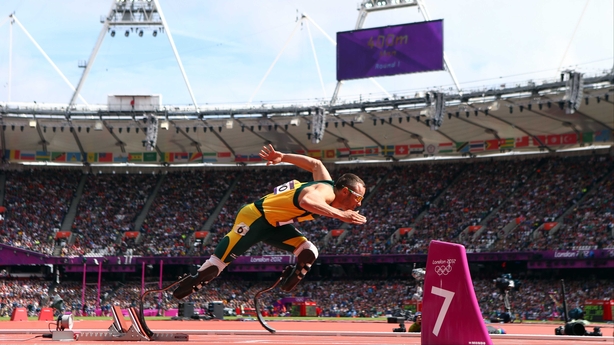 Then in the early hours of 14 February 2013, the athlete, who had his lower legs amputated as a baby, fired his 9mm pistol through a closed toilet door at his home.
Ms Steenkamp, 29, suffered fatal injuries after she was hit in the head, arm and hip.
It was a tragic end to a budding romance that saw the pair labelled the 'Posh and Becks' of South Africa after they started dating three months earlier.
Interest in the subsequent case was intense, and a ruling that parts of the trial could be broadcast live on television added to the scrutiny.
It opened in March and involved physical as well as oral evidence, with one forensic analyst demonstrating in court how Mr Pistorius may have hit the toilet door with a cricket bat.
In June, after the trial was halted for a month, experts concluded that Mr Pistorius was not suffering from mental illness at the time of the shooting.
His reactions as the case against him was set out ranged from crying during evidence about texts they exchanged, and vomiting at a description of her injuries, to calmly taking notes and talking to his lawyers.
Mr Pistorius was on the stand for five days of intense cross-examination from chief prosecutor Gerrie Nel.