Fine Gael's Phil Hogan has been confirmed as the European Union's Commissioner for Agriculture and Rural Development.
European Commission President-elect Jean-Claude Juncker announced the list of 28 new EU Commissioners this morning.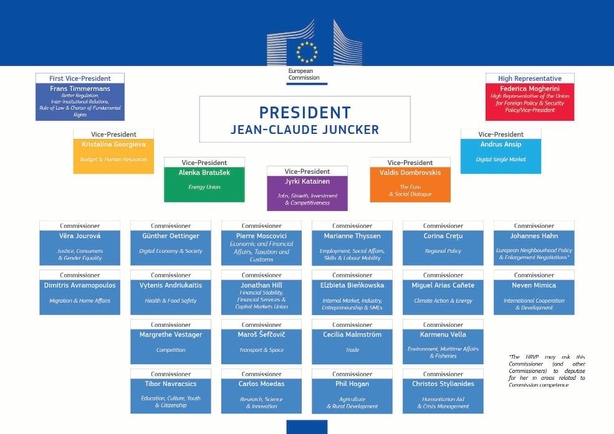 The agriculture commissionership accounts for nearly 40% of the total EU budget.
Mr Hogan, a native of Kilkenny and former minister for the environment, was nominated in July by Taoiseach Enda Kenny .
He becomes the second Irishman to hold the post after Ray MacSharry.
The basic annual salary for an EU Commissioner is around €250,000.
The new commissioners will undergo hearings before the relevant European Parliament committees.
Mr Hogan will face tough questions about his vision for the job and his record as a minister.
The new commission as a whole will be approved or rejected by a full plenary session of the parliament in October.
It is due to take office on 1 November.
Mr Hogan said Mr Kenny's relationship with Mr Juncker played a "major" part in his appointment.
He added that his 32 years in politics and his ministerial role over the last few years were also significant considerations.
Speaking on RTÉ's Today with Seán O'Rourke, Mr Hogan said he and Mr Juncker had discussed the issues that needed to be dealt with.
"The only issue that he was anxious to ensure is that we have a commission that is decisive, that we can break down the barriers between the institutions to deliver for the people of Europe," he said.
"He has indicated his strong desire to deal with those issues of connecting better with the citizens and having opportunities for people to engage, particularly at political level, but at the end of the day to deliver on the jobs growth and investment challenges that we have."
In relation to home issues, Mr Hogan dismissed reports that he knew more than he was admitting in connection with the detailed costs being accumulated by Irish Water in its establishment.
He said: "This is a silly season story ... I don't expect that anyone, or didn't expect that anyone, would set up a new company without costing some money."
The Taoiseach has said he asked Mr Juncker to give Mr Hogan a job "in line with both his personal strengths and with Ireland's EU priorities".
"Phil Hogan's broad political experience will also equip him to make a significant contribution to the work of the commission as a whole and to promote a Europe which puts the real needs of its people first," he added.
Taoiseach Enda Kenny has said the appointment of Mr Hogan is important for European and Irish farming. 
Speaking at the opening of a new storehouse at Guinness Brewery in Dublin Mr Kenny said this was a very important commissionership.
Flanagan to oppose Hogan's appointment
Independent MEP Luke Ming Flanagan has said he believes Mr Hogan will only represent the top 20% of farmers.
Speaking on RTÉ's News at One, Mr Flanagan said he believed this was what the Government did in the review of the Common Agricultural Policy.
Mr Flanagan, who is on the European Parliament's Agriculture Committee, said the idea that he would have to work with someone who wanted to take money away from the poorest farmers was not good news for the vast majority of farmers in Ireland.
He added that he could not support Mr Hogan in the job and that he would use his vote in the European Parliament to oppose the appointment.
Mr Flanagan said the idea that Mr Hogan was Ireland's only option for a commissioner position was completely and utterly ridiculous.
Meanwhile, France and Britain secured top positions in the commission line-up.
Former French finance minister Pierre Moscovici was named as the Commissioner for Economic Affairs, the most coveted job in the new regime.
Britain, whose place in the EU is under threat from a surge in Eurosceptism at home, scored a coup by winning the Financial Services post for its nominee Jonathan Hill, the former head of Britain's House of Lords.