Poland denied a plane carrying Russia's Defence Minister Sergei Shoigu permission to use its airspace because it changed its status to military from civil for unknown reasons, the spokesman for Poland's state air navigation services agency PAZP has confirmed.
"Of course we will grant a permit for the return flight over Poland when the plane changes back its flight plan to non-military," Pawel Paluch said.
He said the plane had received a diplomatic permit for the return flight over Poland as a civil flight of Aeroflot
Russian First Deputy Foreign Minister Vladimir Titov said, "such actions cannot be described as anything other than a crude violation of the norms and ethics of inter-state conduct."
The plane is expected to leave Bratislava airport, where it returned following the Polish refusal, shortly.
Meanwhile, the US has said that Russia's denials of interference in Ukraine are not credible, adding that continued interference puts Russia at risk for additional economic costs.
Earlier, German Chancellor Angela Merkel's spokesman has said Russia's actions inside Ukraine "add up to a military intervention." 
The statement comes ahead of an EU summit that will consider fresh sanctions against Russia.
"Russia is strongly urged to refrain from all actions that mean a further escalation," said the spokesman, Steffen Seibert.
He pointed to a growing number of sightings of Russian fighters and arms inside Ukraine.
Meanwhile, Russia's President Vladimir Putin has insisted that Kiev must enter substantial talks with pro-Russian rebels amid a dramatic escalation of the fighting in Ukraine.
"It is necessary to make the Ukrainian authorities start substantial talks," he told youths at a pro-Kremlin summer camp in central Russia.
It comes as the United Nations said the conflict in eastern Ukraine has killed nearly 2,600 people since mid-April.
The figure is included In its latest report, explaining the sharp increase by fighting in densely populated areas between Kiev's army and pro-Russian rebels.
The report noted that human rights violations like abductions and torture are "committed primarily by the armed groups" fighting the Ukrainian army.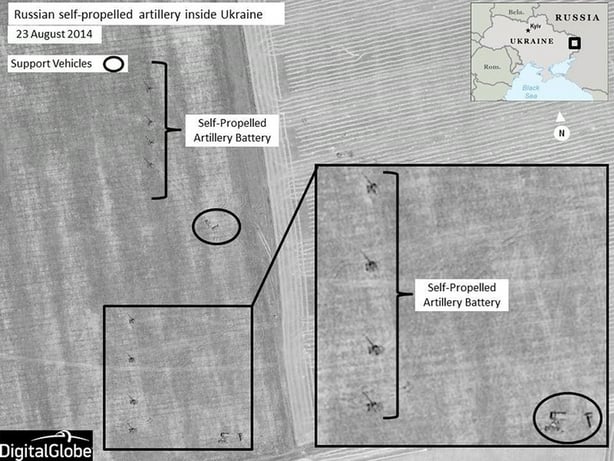 However, he said the United States and NATO would not be taking any military action against the separatists in Ukraine.
Earlier, NATO said about 1,000 Russian soldiers are now fighting alongside the separatists in eastern Ukraine, in what it called a significant escalation of Moscow's military involvement. 
Ukraine has since called for full membership of NATO, in its strongest plea yet for western intervention.
Meanwhile, the US Ambassador to the United Nations has accused Russia of lying about its role in eastern Ukraine.
Samantha Power was speaking at an emergency meeting of the UN Security Council.  
Russian Ambassador to the UN Vitaly Churkin did not respond to allegations that Russian soldiers were operating in Ukraine, but he urged the US not to intervene.