US military tried but failed in a recent attempt to rescue American hostages held in Syria by Islamic State militants, a Pentagon statement has said.
This comes a day after the militants released a video of a US reporter being executed.
"This operation involved air and ground components and was focused on a particular captor network within ISIL (IS)," Pentagon spokesman Rear Admiral John Kirby said in a statement.
Earlier, US President Barack Obama has said that the entire world was appalled by the execution of journalist James Foley by jihadist militants of the Islamic State.
"No just god would stand for what they did yesterday," Mr Obama said of the IS beheading of Mr Foley, shown on a video released by the group.
He said the Islamic State has no place in the 21st century and the US will continue to do "what we must do to protect our people".
Earlier, the US National Security Council said analysis of the video showing Mr Foley and fellow US journalist Steven Sotloff indicates that the video is authentic.
"The US Intelligence Community has analysed the recently released video showing US citizens James Foley and Steven Sotloff," spokeswoman Caitlin Hayden said.
"We have reached the judgement that this video is authentic. We will continue to provide updates as they are available."
Islamic State militants posted a video showing Mr Foley being beheaded and also showing Mr Sotloff.
The video, titled "A Message To America," presented President Obama with bleak options that could define the country's next phase of involvement in Iraq and the public reaction to it.
UN Secretary-General Ban Ki-moon has issued a strong condemnation of the murder of Mr Foley, describing it as an "abominable crime."
British Prime Minister David Cameron said it seems "increasingly likely" that a British jihadist carried out the murder.
He said the killing of Mr Foley was "brutal and barbaric", but insisted it would not change the government's approach to tackling the group in Iraq and Syria.
He said: "Let me condemn the barbaric and brutal act that has taken place and let's be clear what this act is - it is an act of murder, and murder without any justification."
Mr Cameron said far too many British citizens were travelling to Iraq and Syria to engage in extremism and violence and vowed to redouble efforts to stop them.
He said: "To take away the passports of those contemplating travel, to arrest and prosecute those who take part in this extremism and violence.
"To take extremist material off the internet and do everything we can to keep our people safe. And that is what this government will do."
The Islamic State video's grisly message was unambiguous, warning of greater retaliation to come against Americans following nearly two weeks of US air strikes that have pounded militant positions and halted the advance of IS, which until this month had captured a third of Iraq with little resistance.
Mr Foley, 40, was kidnapped by armed men on 22 November 2012, in northern Syria while on his way to the Turkish border, according to Global Post, a Boston-based online publication where Mr Foley had worked as a freelance.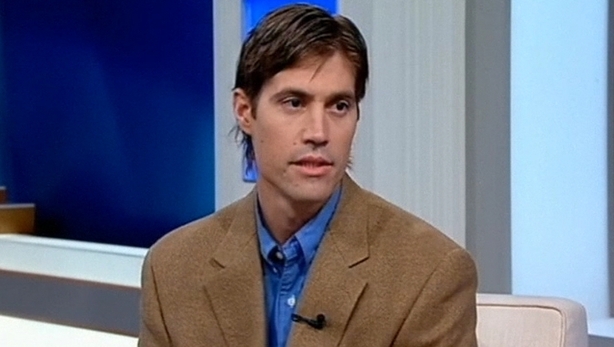 He had reported in the Middle East for five years and had been kidnapped and released in Libya.
Mr Sotloff, who appeared at the end of the video, went missing in northern Syria while reporting in July 2013. He has written for TIME among other news organisations.
The video injected an unpredictable element into President Obama's deliberations on how far to proceed with US air strikes against Islamic State targets in Iraq, though aides said his vow not to put US combat forces on the ground in Iraq still held.
On a Facebook page for Mr Foley, a message from his mother Diane Foley said: "We have never been prouder of our son Jim. He gave his life trying to expose the world to the suffering of the Syrian people.
"We implore the kidnappers to spare the lives of the remaining hostages. Like Jim, they are innocents. They have no control over American government policy in Iraq, Syria or anywhere in the world."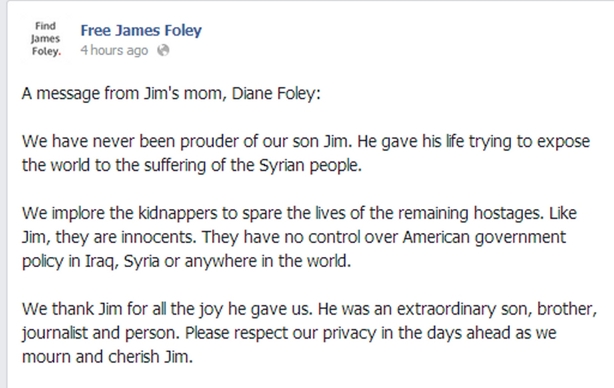 Islamic State had not previously executed US citizens publicly. The video was posted after the United States resumed air strikes in Iraq this month for the first time since the end of the US occupation in 2011.
US aircraft conduct more air strikes
US aircraft has conducted 14 air strikes against Islamic State militants near Iraq's largest dam in the past 24 hours, officials has said, amid IS threats to kill a second US journalist.
US drones and fighter jets destroyed or damaged six IS Humvees, three sites for improvised explosive devices, one mortar tube and two armed trucks, US Central Command said.
It said the strikes served to "further expand" Iraqi and Kurdish control of the area.
YouTube takes action over video
YouTube is taking action to remove any video of James Foley's murder on its site and close accounts belonging to terrorist organisations, it said.
The company, part of Google, spoke after a campaign was launched on Twitter encouraging users not to share videos by the Islamic State.
Using the hashtag #ISISmediablackout they urged people instead to share photos of the photojournalist before his capture in Syria in 2012.
Police in Britain have warned that "viewing, downloading or disseminating extremist material within the UK may constitute an offence under Terrorism legislation".
This afternoon a YouTube spokesman said: "YouTube has clear policies that prohibit content like gratuitous violence, hate speech and incitement to commit violent acts, and we remove videos violating these policies when flagged by our users.
"We also terminate any account registered by a member of a designated foreign terrorist organisation and used in an official capacity to further its interests."
Twitter's chief executive Dick Costolo has earlier said the firm was taking action against accounts which spread the video, writing: "We have been and are actively suspending accounts as we discover them related to this graphic imagery. Thank you."