US President Barack Obama has said he is sending Attorney General Eric Holder to Ferguson, Missouri, on Wednesday to investigate the fatal shooting of a black teenager by a white policeman.
He also urged restraint on the part of both law enforcement and protesters.
"To a community in Ferguson that is rightly hurting and looking for answers, let me call once again for us to seek some understanding rather than simply holler at each other," President Obama told a news conference.
"Let's seek to heal rather than to wound each other."
He added that anger over the death of the youth, Michael Brown, was understandable, but condemned the violence and theft that had taken place during the protests.
Earlier today, pathologists retained by Mr Brown's family said he was shot at least six times.
"Six bullets struck, and two may have re-entered" Michael Brown's body, said Michael Baden, who was tasked by the 18-year-old's family and lawyers to conduct an independent examination on his remains.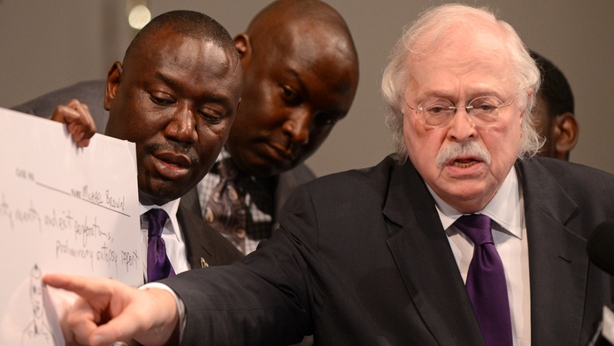 Mr Brown was shot by white police officer Darren Wilson on 9 August.
One of the bullets hit the top of Mr Brown's head, another struck his eye, while others were located on his right arm, Dr Baden told a press conference in the St Louis suburb of Ferguson.
"All of the gunshot wounds could have been survivable, except the one at the top of the head," he said.
Dr Baden said he had found no evidence of an alleged struggle between Mr Brown and the officer, who is said to have been hurt in the incident, but added that he had not examined the policeman.
The absence of gunpowder on Brown's body indicated that the muzzle of the gun could have been as close as a foot or two away (60cm), or 30 feet (9m) away, he added.
The respected former New York City chief medical examiner stressed his findings were preliminary and that he need to see X-rays taken by local coroners just before the bullets were removed Mr Brown's corpse.
Mr Brown's death prompted often violent protests in Ferguson, which has an African-American majority but a mainly white police force.
Three autopsies are under way: one by St Louis County authorities, another by the Brown family and a third by the US federal government, which is investigating possible civil rights violations.
UN Secretary-General Ban Ki-moon has called on US authorities to ensure the protection of the rights of protesters in Ferguson.

"The Secretary-General calls on the authorities to ensure that the rights to peaceful assembly and freedom of expression are protected," UN spokesman Stephane Dujarric told reporters.

"He calls on all to exercise restraint, for law enforcement officials to abide by US and international standards in dealing with demonstrators," Mr Dujarric said.
Meanwhile, the governor has lifted a curfew imposed on the Missouri town after signing an executive order to send the National Guard to Ferguson after tear gas was used in protests overnight.
"With these additional resources in place, the Missouri State Highway Patrol and local law enforcement will continue to respond appropriately to incidents of lawlessness and violence, and protect the civil rights of all peaceful citizens to make their voices heard. We will not use a curfew tonight," Governor Jay Nixon said in a statement.
Hundreds of protesters fled to safety after authorities fired canisters of smoke to disperse them.
The Missouri Highway Patrol said some tear gas was used along with the smoke bombs.
The crowd of about 400 appeared to be marching peacefully but a spokesman for the Missouri Highway Patrol said "aggressors" had advanced on a law enforcement command post.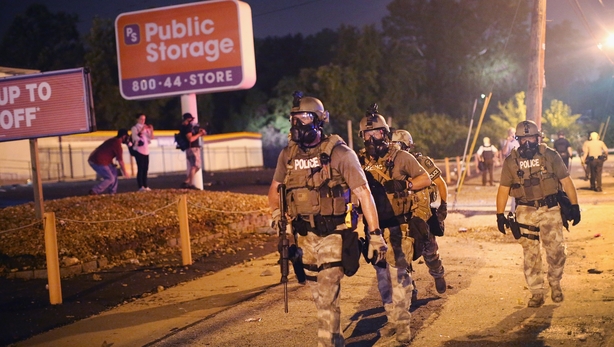 Earlier yesterday, US Attorney General Eric Holder ordered a federal post-mortem examination of Mr Brown's body, seeking to assure the family and community there will be a thorough investigation into a death that has sparked days of racially charged protests.
Police say Mr Brown was asked by Officer Wilson to move out of the road and onto a path and that Mr Brown reached into a patrol car and struggled with Officer Wilson for his service gun and was shot.
A friend of Mr Brown's, Dorian Johnson, 22, and at least one other witness said Mr Wilson reached out through his car window to grab at Mr Brown and the teenager was trying to get away when shot.
Mr Brown held up his hands in a sign of surrender, but officer Wilson got out of his patrol car and shot Mr Brown several times, they said.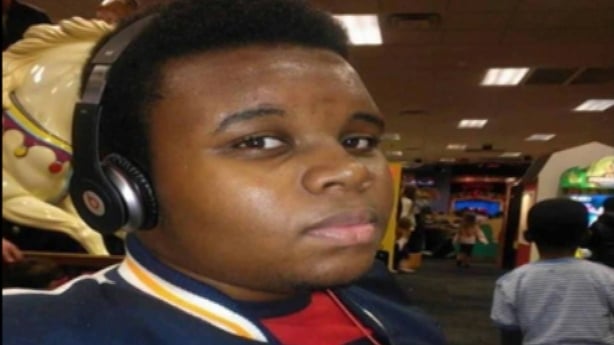 The police department in the St Louis suburb has come under strong criticism for Mr Brown's death and its handling of the aftermath.
The clashes in Ferguson have pitted mostly black protesters against mostly white police in a residential and retail district.
The Highway Patrol captain charged with restoring order told hundreds of people gathered at a local church for a rally yesterday that he was committed to protecting their right to protest.

"I'm sorry," Captain Ron Johnson, who is black, told Mr Brown's family during remarks that prompted repeated standing ovations at the rally.
"My heart is heavy."
The mood at the rally was sombre, as a choir sang gospel music at Greater Grace Church, civil rights activist the Rev Al Sharpton asked participants to join hands and prepare themselves for difficult days ahead as the results of three post-mortem examinations become public, and his funeral is held.

"This is a defining moment in this country," Rev Sharpton told the crowd. Mr Brown's death "will change this town," he said.

In St Louis yesterday, about 125 people attended a rally in support of officer Darren Wilson, the St Louis Metropolitan Police Department said.
Protesters held signs that read, "We love and support you Darren" and "Support our police. Pray for peace."