Pope Francis urged Koreans to pray and work for the re-unification of their divided peninsula, saying they should aim to reunite as one family "with no victors or vanquished".
The pope, in his most specific comments on the division of Korea since he started his five-day trip to the South yesterday, made the impromptu comments in response to a question by a girl at a youth rally.
"Let us pray for our brothers in the north," the pope said, leading the young people in prayer.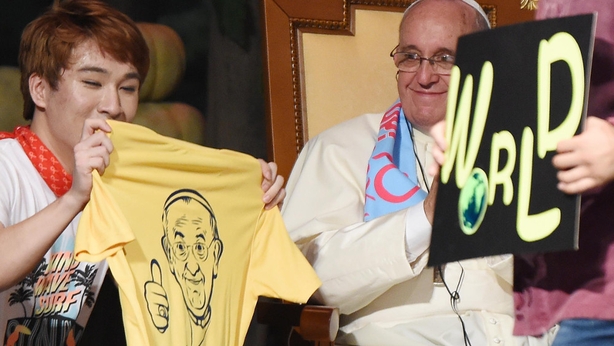 "Lord, we are one family. Help us reach unity. You can do it. So that there are no victors or vanquished. Just one family, only brothers," he said, deviating from his prepared text.
The 1950-1953 Korean war ended in an armed truce that continues, leaving North Korea and South Korea in a technical state of war.
"You are brothers who speak the same language ... think ofy our brothers in the north. They speak the same language and when in a family the same language is spoken there is a human hope," he said, urging them to "not despair".
Meanwhile, North Korea said this morning its firing of three short-range rockets shortly before Pope Francis arrived in the South Korean capital the yesterday had nothing to do with the papal visit.
The rockets were fired from multiple launchers in the North Korean port city of Wonsan.
They travelled 220km before landing in waters east of the Korean peninsula, a South Korean defence ministry official said yesterday.
The last rocket was fired 35 minutes before Pope Francis was due to arrive at an air base in Seoul, where the pontiff started a five-day visit to South Korea, his first visit to Asia.
The test site was hundreds of kilometres away from the pope's plane.
GALLERY - Pope Francis in South Korea
North Korea fired two more projectiles from the same location later on Thursday.
It is "absurd" to link the timing of the rocket firing with the pope's visit to South Korea, the North's official KCNA news agency quoted Kim In Yong, research director at the Second Academy of Natural Sciences, as saying.
"The test firing of ultra-precision high-performance tactical rockets was conducted on the scheduled day and time along with our plan to strengthen our self defensive power," Mr Kim said.
Isolated North Korea rarely responds directly to international media coverage of its activities.
"Our scientists do not know what the pope has done for the people of the world, and especially for our nation, and we don't feel any necessity to know about it. And we don't know and are not interested in the purpose of his visit to Korea."
The launches preceded the start of US-South Korean military exercises set for Monday. South Korea and the US say the exercises are defensive in nature but North Korea regularly protests against what it sees as a rehearsal for war.
In his statement, Mr Kim said the South should call off the drills in order to promote a peaceful atmosphere ahead of the Asian Games, set for next month in Incheon, South Korea.
North Korea last fired short-range rockets in late July but has since said repeatedly that the launches are specifically designed as counter measures against those drills.
"Given that the US and the puppet forces of South Korea continue staging nuclear war exercises against us in particular, we will take countermeasures for self-defence which will include missile launches, nuclear tests and all other programmes," a statement carried by North Korean state media last Friday said.