US President Barack Obama and British Prime Minister David Cameron have called for an immediate cessation of hostilities in Gaza and pressed for action that would lead to a permanent ceasefire.
"On Gaza, they condemned the resumption of rocket fire and called for an immediate cessation of hostilities leading to a sustainable ceasefire," the White House said in a statement about the call between the two leaders, during which they also discussed Iraq and Ukraine.

"President Obama and Prime Minister Cameron reiterated support for Israel's right to self-defense while emphasizing the need for all sides to minimize civilian casualties
Hamas has defied international attempts to broker a new ceasefire after fighting resumed in Gaza, saying there will be no concessions to Israel.
"There will be no going back, the resistance will continue," Hamas spokesman Fawzy Barhum said in a statement.
"The occupier's intransigence will get it nowhere and we will make no concessions on the demands of our people," he said.
The month-long conflict flared again after mediators tried but failed to extend a ceasefire that expired yesterday morning and which Israel accused Hamas of breaching with pre-dawn rocket attacks.
Fighting between Israel and Hamas has now killed at least 1,900 Palestinians and 67 people on the Israeli side, almost all soldiers, since 8 July.
Egyptian mediators met a Palestinian delegation again yesterday evening and were waiting to hear back from the Israelis after Shabbat, the Jewish sabbath which ends this evening.
Acting US Middle East peace envoy Frank Lowenstein, who has been in Cairo for some days, "is still trying to help the parties get a permanent ceasefire", a US embassy official said.
Israel launched more than 30 aerial attacks on Gaza, killing seven Palestinians, and militants fired several rockets at Israel as the conflict entered a second month.
The Israeli military said that since midnight it had attacked more than 30 sites in the coastal enclave where Hamas Islamists are dominant, without specifying the targets.
Palestinian witnesses and officials said the air strikes lasted through the night, that two mosques were destroyed and three houses were bombed, and that fighter planes had also bombed open areas.
Gaza militants fired four rockets at towns in Israel's south today setting off alarm sirens and causing no damage or injuries, a military spokeswoman said.
Violence also picked up in the occupied West Bank, the Palestinian territory where President Mahmoud Abbas's Fatah movement holds sway.
It is the area where a Palestinian man, 43, died of a gunshot wound to the chest from a confrontation with Israeli soldiers in the city of Hebron, medical officials said.
Israeli troops shot and killed another Palestinian man, 20, yesterday at a protest near a Jewish settlement outside Ramallah, Israeli military officials said.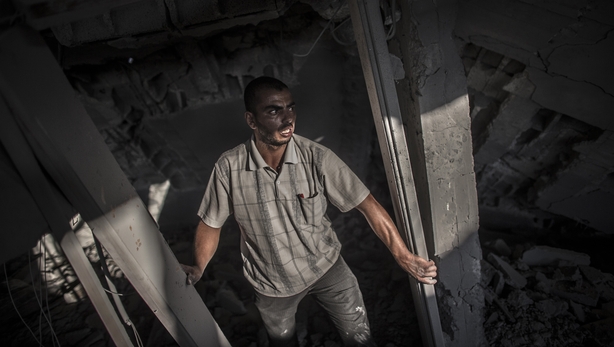 Thousands take part in march in Dublin
The ceasefire expired yesterday with the sides still far apart on the terms for renewing the deal and each side blaming the other for refusing to extend it.
Israel accused Hamas of firing several rockets about four hours before the deal expired at 8am (0500 GMT).
Israel also launched air strikes in Gaza yesterday, killing five Palestinians, among them a ten-year-old boy near a mosque in Gaza City.
An Islamic Jihad militant and three other Palestinians were killed in the southern Gaza Strip.
Police said two people in Israel were injured by mortar fire from Gaza yesterday.
Meanwhile, the White House urged Israel and the Palestinians to do what they could to preserve civilians after having failed to extend their ceasefire.
Spokesman John Earnest said yesterday, "the United States is very concerned" about the renewed violence.
"We condemn the renewed rocket fire and we are concerned about the safety and security of civilians on both sides of the conflict," Mr Earnest said.
UN Secretary-General Ban Ki-moon issued a similar statement, urging the parties "not to resort to further military action that can only exacerbate the already appalling humanitarian situation in Gaza."