The United Nations Secretary-General Ban Ki-moon has described a deadly attack on a UN school as a "moral outrage and a criminal act".
Mr Ban called for those responsible for the "gross violation of international humanitarian law" to be held accountable.
In a statement, he strongly condemned the shelling of the school in Rafah in southern Gaza that killed at least ten civilians and injured 30 people.
The school was sheltering 3,000 displaced persons and Mr Ban said the "Israel Defence Forces have been repeatedly informed of the location of these sites."
The Israeli military declined immediate comment on the attack, the second to hit a school in less than a week.
A missile launched by an aircraft struck the entrance to the school in the town of Rafah, witnesses and medics said.
Spokesman for the UN agency for Palestinian refugees Chris Gunness said the school had been housing thousands of internally displaced people.
People staying there had been forced to flee their homes by the ongoing violence in Gaza.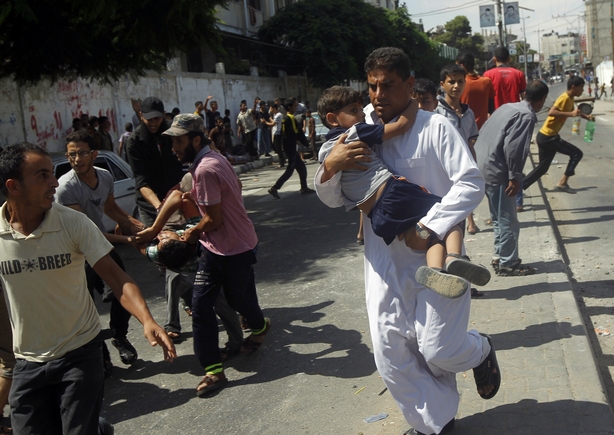 Initial reports say there are multiple deaths and injuries at the UNRWA school in Rahah #Gaza caused by shelling RT

— Chris Gunness (@ChrisGunness) August 3, 2014
Meanwhile, Israel has declared a humanitarian ceasefire for most of Gaza tomorrow between 7am and 2pm.
Earlier today, Israeli shelling killed at least 30 people in Gaza, a day after Prime Minister Benjamin Netanyahu vowed to keep up pressure on Hamas after the army completes its core mission of destroying a tunnel network that extends into Israel.
After accusing Hamas of breaching a US and UN brokered ceasefire on Friday, Israel said it would not send envoys as scheduled.
More than 30 tunnels and dozens of access shafts have been unearthed and were being blown up.
Israel began its air and naval offensive against Gaza on 8 July following a surge of cross-border rocket salvoes by Hamas and other guerrillas, later escalating the operation into ground incursions.
The fighting today pushed the Gaza death toll given by Palestinian officials to 1,726, most of them civilians.
Israel says 64 soldiers have died in combat, while Palestinian rockets have also killed three civilians in Israel.