Israeli strikes have killed at least 13 women and children in Gaza, bringing the death toll to over 600, medics said, as the Israeli army announced the deaths of two more soldiers in the two-week conflict.
The fatalities, which were among nearly 40 today alone, brought the total death toll to more than 600 Palestinians, according to Gaza's emergency services, and 29 Israelis - 27 soldiers and two civilians.
A child and three women, one of them pregnant, were killed in two separate Israeli air strikes in Zeitun, in central Gaza, and Beit Hanun, in the north, emergency services spokesman Ashraf al-Qudra said.
An elderly woman and her brother were among those killed in three separate raids targeting Bureij and Al-Maghazi in central Gaza, and Rafah in the south.
A series of Israeli air strikes early this morning killed seven people.
The toll included ten women and three children, according to Qudra.
The Israeli army confirmed that a soldier, who Hamas militants claimed they had kidnapped, was dead and his body remains unaccounted for.
The army named the soldier, whose body is still missing, as Oron Shaul, two days after Hamas said they had kidnapped an Israeli soldier of the same name.
The bloodshed pushed the total Palestinian toll to over 600 since the Israeli military launched Operation Protective Edge on 8 July in a bid to stamp out rocket fire from Gaza.
Two Israeli civilians have been killed since then by cross-border rocket fire.
The United Nations said Palestinian civilians in densely-populated Gaza have no place to hide from Israel's military offensive and children are paying the heaviest price.
"There is literally no safe place for civilians," Jens Laerke, spokesman of the UN Office for Humanitarian Assistance (OCHA), told a news briefing in Geneva.
The priority for aid agencies was protecting civilians and evacuating and treating the wounded, Mr Laerke said.
Nearly 500 homes have been destroyed by Israeli air strikes and 100,000 people have sought shelter in schools of the UN Relief and Works Agency, where they need food, water and mattresses, he said.
US Secretary of State John Kerry today discussed proposals for a Gaza ceasefire with Egypt, as both sides voiced guarded hopes of ending the bloodshed.
Mr Kerry held talks in Cairo with UN chief Ban Ki-moon, who has also come to the Egyptian capital to push for a truce.
Mr Kerry met the Egyptian leadership today, including President Abdel Fattah al-Sisi, the former army chief who overthrew the Islamist government last year and cracked down on its supporters.
Mr Ban urged Israel and the Palestinians to stop the bloodshed in Gaza as he sought to broker an end to a fortnight of deadly violence.
Speaking at a news conference after arriving in Tel Aviv, Mr Ban described Hamas rocket fire on Israel as "shocking," saying it must "stop immediately".
"My message to Israelis and Palestinians is the same: Stop fighting, start talking and take on the root causes of the conflict so that we are not at the same situation in the next six months or a year," he said.
The secretary-general said he had seen photographic and video evidence of Palestinian rocket fire on Israel, describing it as "quite shocking" and saying all countries had an "international obligation to protect" their citizens.
"The UN position is clear: we condemn strongly rocket attacks. These must stop immediately," he said.
But Israel must exercise "maximum restraint."
He urged the Jewish state to take a hard look at some of the root causes of the violence.
The Federal Aviation Administration (FAA) has banned US airlines from flying to and from Israel for at least 24 hours following a rocket strike near Tel Aviv's main airport.
In a statement, the US government agency said its prohibition applied only to US air carriers, and that "updated instructions" would be issued "as soon as conditions permit."
Delta, US Airways and United Airlines had earlier halted flights to and from Tel Aviv's Ben Gurion International Airport.
A third of civilian casualties are children - UNICEF
The overwhelming majority of people killed so far in the conflict are Palestinians, including 121 Gaza children, who make up one-third of the total civilian casualties, Juliette Touma of the UN Children's Fund (UNICEF) said.
More than 900 Palestinian children are also reported to have been injured, according to UNICEF.
"According to an assessment by aid workers on ground at least 107,000 children need psycho-social support for the trauma they are experiencing such as death, injury or loss of their homes," Mr Laerke said.
More than 1.2 million people in Gaza have no water or only limited access to water as power networks have been damaged or lack fuel for generators, he said.
"In addition, we do have reports of sewage flooding which is a threat to public health," he said.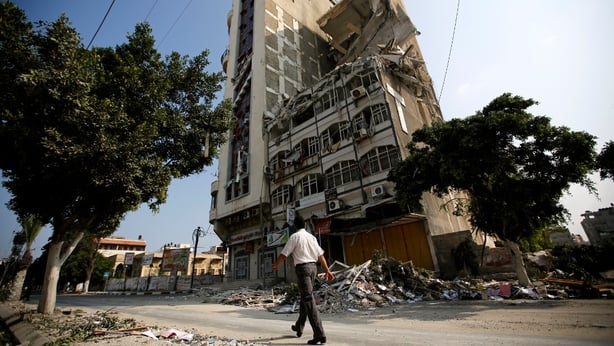 The World Food Programme has distributed emergency food rations and food vouchers to more than 90,000 people so far during the conflict, spokeswoman Elisabeth Byrs said.
"Ready to eat food stocks are running low in Gaza given the conflict has lasted two weeks and the needs are increasing," she said.
Supplies will be bought locally and also airlifted from Dubai.
The World Health Organisation said that 18 health facilities in Gaza have been damaged, including three hospitals.
"There are critical concerns with hospital supplies, as both medicines and medical disposables are in serious shortage, both in ministry of health and NGO hospitals, due to the large number of casualties and serious shortages even before the escalation of violence," WHO spokeswoman Fadela Chaib said.
Earlier, Palestinian militants in Gaza said they had agreed to a five-hour ceasefire to allow Gazan residents to leave their homes and seek vital supplies, and accused Israel of rejecting the proposal. Israeli officials did not comment.
Violence spread to the nearby West Bank, where medics said soldiers shot dead a Palestinian man while dispersing stone-throwing protesters.
A Palestinian shot and seriously wounded an Israeli in the Nablus area today.
Dispatched by US President Barack Obama to the Middle East to seek a ceasefire, Mr Kerry held talks today in Cairo with Egyptian Foreign Minister Sameh Shukri.
Egypt was key to securing an end to a previous bout of Gaza fighting in 2012, but the country's new leadership is openly hostile to Hamas, potentially complicating the negotiations.
Israel has signalled it is not in a hurry to achieve a truce before reaching its goal of crippling Hamas's militant infrastructure, including rocket arsenals and networks of tunnels threatening Israelis living along the Gaza frontier.
Hamas has also said it will not cease hostilities until its demands are met.
They include that Israel and Egypt lift their blockade of Gaza and its 1.8 million people, and that Israel release several hundred Palestinians detained during a search last month for three Jewish teenagers later found dead.
Israel blamed the killings on Hamas.