Airlines including Qantas Airways and Air Berlin altered their flight paths months ago to avoid Ukrainian airspace after fighting flared up in the region, raising questions about why others did not do the same.
The issue of whether to avoid flying over conflict zones has come into sharp focus since the downing of Malaysian Airlines Flight MH17 yesterday with 298 people in board.
International civil aviation regulators had imposed no restrictions on crossing an area where pro-Russian rebels are fighting Ukrainian forces.
The majority of carriers had continued to use a route popular with long-distance flights from Europe to southeast Asia.
The United Nations civil aviation body said it was not responsible for issuing warnings about potential dangers such as military conflicts, saying that duty fell to individual nations.
But the fact that a handful of companies decided to circumnavigate the disputed territory underlined inconsistencies in airlines' approach to passenger safety.             
Aviation experts said piecemeal and potentially conflicting advice from aviation regulators further confused the situation.
They called for clearer guidance on which areas to avoid.
In addition to Qantas and Air Berlin, Asiana Airlines Inc, Korean Air Lines Co Ltd, Cathay Pacific Airways Ltd and Taiwan's China Airlines decided to avoid Ukrainian airspace several months ago.
"Although the detour adds to flight time and cost, we have been making the detour for safety," said a spokeswoman for Asiana, which has been diverting its once-weekly cargo flight 150km below Ukrainian airspace since 3 March.
The European Aviation Safety Agency did issue a safety bulletin, accompanied by recommendations from both the International Civil Aviation Organization (ICAO) and Brussels-based Eurocontrol, on 3 April, advising that Crimean airspace should be avoided.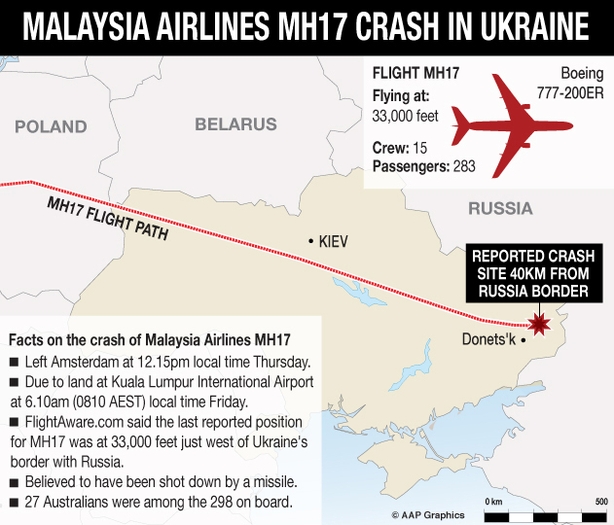 Russia annexed Crimea from Ukraine in March.
But those directives did not apply to the airspace over Ukraine being traversed by Flight MH17 when it was brought down.
A Malaysian Airlines executive, who requested anonymity, said the downed carrier followed every safety procedure.
"Some airlines are saying that they avoided the area, but that is a red herring," the executive said.
"There was no reason to avoid this area in question," he added, noting that airlines regularly flew over conflict areas, such as Afghanistan.
Malaysian Transport Minister Liow Tiong Lai said this morning the national airline took no undue risk in flying over Ukraine, a route he stressed was approved by the ICAO and widely used by other airlines.
ICAO closed the route after the plane crashed.
"We've flown this route for many years, it's safe and that's the reason why we are taking this route," Mr Liow told a news conference where reporters repeatedly questioned why the airline chose to fly over a war zone.
Thai Airways International, which had also continued to flyover the area until the crash, said there was no reason not to do so.
"Ukraine is not a war zone. Crimea is war zone," spokeswoman Charlene Suddhimondala said.
"Whether we flew over Ukraine really depended on fuel and weather conditions. If the weather was good, sometimes pilots opted to fly over Russia which meant passing through Ukraine."
Some independent experts did not agree.
Geoff Dell, an accident investigation and safety specialist at CQ University in Australia, said airlines had their own intelligence operations which should be making decisions in such situations.
"It's blatantly obvious they shouldn't have been anywhere near it," Mr Dell, who was working as a senior safety manager for Qantas during the first Gulf War, said of Flight MH17.
"Any sort of unrest breaks out, civil wars or such, you change your flight path so that you don't have to go anywhere near it. Of course it comes at a cost, because you have to fly further."
Diverting planes is expensive for airlines, requiring more fuel and more time in the air and making some reluctant to do so without clear directives.
Flight MH17, en route from Amsterdam to Kuala Lumpur, was flying at around 10km over eastern Ukraine when it was brought down.
Before Crash, Some Airlines Avoided Ukraine #MH17 http://t.co/rhovRFko4q - interesting map. Looks like BA and Air France were avoiding it.

— Kevin Bakhurst (@kevinbakhurst) July 18, 2014
The United States said the plane was probably felled by a ground-launched missile strike, while Australian Prime Minister Tony Abbott said that Russian-backed rebels were responsible.
Immediately after the incident, several airlines announced that they were re-routing flights to avoid Ukrainian airspace, including Russian carrier Transaero.
As well as criticising some airlines, Mr Dell and other experts said the onus was also on civil aviation regulators to provide clearer directives on avoiding conflict areas.
"The safety authorities themselves have much to answer for," said Chris Yates, of London-based aviation consulting firm Yates Consulting.
"This is an information disconnect as well, ultimately."             
Ukrainian authorities had closed the flight path from the ground to around 32,000 feet, according to Eurocontrol, the agency responsible for coordinating European airspace.
Flight MH17 was flying 1,000 feet above that.
After the crash, the International Air Transport Association (IATA) said that "based on information currently available it is believed that the airspace that the aircraft was traversing was not subject to restrictions".
The Malaysian Airlines executive noted that airlines are guided by advisories from regulators called NOTAMs, or Notices to Airmen, which alert aircraft pilots of potential hazards along a flight route that could affect its safety.
In April, the US Federal Aviation Administration (FAA) issued a NOTAM order prohibiting US aircraft from flying in the airspace over the Crimean region of Ukraine and nearby parts of the Black Sea and Sea of Azov.
That area was expanded in response to events yesterday.
Some conflict areas pose more of a threat than others.              
In Ukraine, Soviet-era military hardware is prevalent, and the government has accused pro-Moscow militants, aided by Russian military intelligence officers, of firing a long-range, Soviet-era SA-11 ground-to-air missile at the Malaysia Airlines plane.
On Monday, a Ukrainian Antonov AN-26 transport plane was downed in a rocket attack, which Kiev said may have come from Russian territory.