A Texas man has been charged with capital murder in the shooting deaths of six people, including four children, in a domestic dispute in suburban Houston.
Ron Lee Haskell, 33, appeared at the house of his estranged wife disguised as a FedEx driver and gunned down a married couple and four of their children.
He was being held without bond and has not spoken with police since he was taken into custody on last night after the shooting in Spring, Texas, they said.
He was chased by police through the residential area of tree-lined streets about 40km north of Houston before he was trapped in a cul-de-sac and surrendered after a four-hour stand-off.
"Mr Haskell was married to a relative of the victims," said Mark Herman, the assistant chief deputy for the Harris County Constable Precinct 4 office.
"Mr Haskell and his spouse were divorced. I'm not sure what conclusion we can draw from the motive to attack family members," Herman said.
The children killed - two boys aged four and 14 and two girls aged seven and nine - were all children of Mr Haskell's relatives, the sheriff's office said.
The Harris County District Clerk identified the adult victims as Katie Stay, 33 and 39-year-old Stephen Stay.
"He (Haskell) came to this residence, gathered up the children that were here, and awaited the arrival of the parents.
"Sometime later the victims were shot at this residence," Constable Ron Hickman said at a news conference.
Mr Haskell was charged with capital murder and multiple murders.
Capital murder can carry the death penalty in Texas.
A 15-year-old girl who also was shot but survived identified the suspect and told police where he might be going after the shootings.
This enabled officers to head him off before he arrived at the home of another family, police said.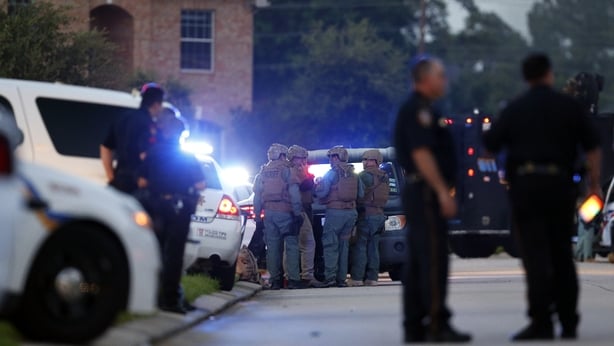 According to a constable at the scene, the 15-year-old said the shooter was a family member.
Five of the victims were found dead on the scene, the Harris County Sheriff's Office said.
Two others were flown to a hospital, where one, a child, later died and the other was in critical condition, the sheriff's office added.
A local television broadcast of the standoff showed the suspect's car sandwiched between two trucks where the chase ended, with more than a dozen police vehicles nearby.
After a four-hour interlude, he walked of his car with his hands raised, then lay down on the ground in surrender.
President Barack Obama has warned that the US needs to do some "soul-searching" on gun control, which remains relatively lax despite regular gun attacks.