Verdicts of accidental death have been returned by the jury at the inquest into the deaths of six people in a plane crash at Cork Airport three years ago.
Prior to the verdict being reached, Coroner Frank O'Connell told the jury of six men and one woman that they were entitled to conclude that fog at the airport at the time of the crash was a significant factor.
Mr O'Connell also told the jury it was entitled to conclude from the evidence that the pilots were doing their level best to land the plane safely.
He told the jury members that, if they agreed with that, then a verdict of accidental death was possibly the only one open to them.
The Manx2 commuter flight from Belfast had ten passengers and two crew on board when it crashed.
The 18-seater light turboprop aircraft overturned and caught fire while making a third attempt to land in heavy fog at Cork Airport.
The flight's captain, co-pilot and four passengers died; six other passengers survived.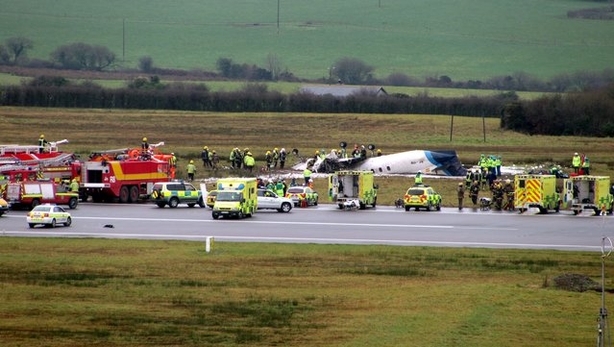 Yesterday, the inquest heard from survivors of the crash.
One of the survivors said, having survived the impact, she felt she was then going to be burnt alive.
Heather Elliott was travelling from Belfast to visit her mother in Kinsale.
She described the plane descending into thick fog and said she was concerned that the pilot could not see.
The plane then crashed and went on fire.
Ms Elliott said she held the hand of fellow passenger Laurence Wilson and they both prayed.
Mr Wilson said mud which filled the aircraft was suffocating him.
Both he and Ms Elliott were rescued soon afterwards.
Cork's major accident and emergency plan was activated to deal with the crash.
Superintendent Charlie Barry, who oversaw the plan, described the crash as a terrible tragedy.
John McCarthy of the Cork Airport Police told the inquest about the efforts that he and other emergency services personnel made to rescue people from the aircraft.
He said cutting equipment had to be used to get several of the passengers out of their seats.
Mr McCarthy told the inquest that most of the fatalities were seated toward the front of the aircraft.