Independent councillor Christy Burke has been elected unopposed as Dublin city's new Lord Mayor.
Sinn Féin will get the position for the 1916 centenary after agreeing a deal with the Labour Party, the Greens and independents.
Mr Burke was the first Sinn Féin councillor elected in Dublin city 29 years ago, but became an independent in later years.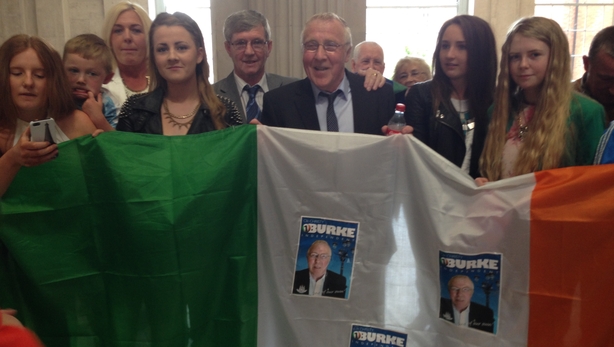 Under a deal finalised this evening, Sinn Féin will take over next June and hold it for the centenary of the Rising in 2016.
They will be supported by the Labour Party, Greens and 11 independents.
In a statement this evening the coalition group said it was committed to reducing both the property tax and commercial rates where possible while maintaining services.
Earlier both Fianna Fáil and Fine Gael dropped out of an all-party agreement.
Fine Gael group leader councillor Kieran Binchy said the red line issue for his eight elected members was a commitment to pass budgets for the next five years without increasing commercial rates or property tax.
He said there was not sufficient commitment from other parties including Sinn Féin.
"Anyone can pass a budget by raising taxes. We want to protect jobs by not increasing rates and ease the burden on Dublin residents by not increasing the property tax," said Mr Binchy.
The Sinn Féin group had been willing to commit to a willingness to pass budgets "where possible" but this was not acceptable.
The make-up of the new Dublin City Council's 63 seats is:
Sinn Féin - 16
Fianna Fáil - 9
Fine Gael - 8
Labour Party - 8
Independents -12
Green Party - 3
People Before Profit - 5
United Left - 1
Anti Austerity Alliance - 1
Majority required: 32
Attempts in Cork to forge alliance
Fianna Fáil's Councillor Mary Shields has been elected Lord Mayor of Cork at the first meeting of the new council in the city this evening.
Ms Shields was supported by her nine Fianna Fáil colleagues, by the eight Sinn Féin councillors, five Fine Gael members and three independents: Mick Finn, Paudie Dineen and Thomas Moloney.
Sinn Féin will take the mayor's chain in 2015/2016, coinciding with the centenary of the 1916 Rising.
Meanwhile, Fianna Fáil's Alan Coleman has been elected the new Co Cork mayor.
He was elected with the support of Two Labour Party councillors and seven independents.
Elsewhere, Fianna Fáil and Fine Gael have formed a pact to control the newly elected local authority in Westmeath for the coming year.
Paddy Hill from Fore, near Castlepollard was elected as Cathaoirleach of Westmeath County Council after being proposed by Fianna Fáil's Paul Daly and seconded by Fine Gael's Frank McDermott.
Meanwhile, Fianna Fáil's John Brassil has been elected the new Mayor of Co Kerry.
Mr Brassil was elected with the support of Fine Gael Council members.
Alliances between Fine Gael and Fianna Fáil to share power and the job of mayor were also struck in councils in Limerick, Tipperary, Kildare, Clare, Carlow, Galway, Sligo and Fingal in Dublin.
In Donegal, Independent Councillor John Campbell was named as the new Cathaoirleach of the County Council.
An Independent councillor was also elected in Co Longford and a deputy one in Co Cork.