More than 40,000 women have taken part in the Flora Women's Mini Marathon in Dublin, raising an estimated €12m for charity.
The 10-kilometre race began at 2pm this afternoon from Baggot Street Lower.
Road closures and traffic diversions are in place in and around the city centre until 6pm this evening.
Organisers of the event said 15,000 women signed up to run and the remainder walked the course with many raising funds for over 800 charities.
The route took in Baggot Street, Pembroke Road, Merrion Road, Nutley Lane, Stillorgan Road, Donnybrook, Leeson Street Upper and Fitzwilliam Square.
In Cork city three marathon events took place, a full marathon, a half marathon and team relay race.
In the full marathon it was a close finish just seven seconds separated the first two runners.
Bartosz Mazerski beat Gary O'Hanlon to the post to retain his title.
The first woman over the line Pauline Curley also retained her title and set a new a course record.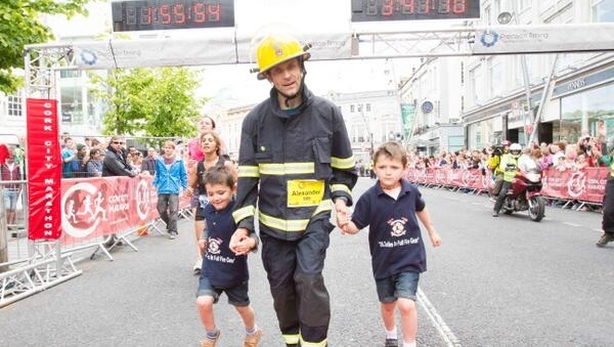 Firefighter Alex O'Shea from Ballineen in West Cork smashed the world record for running a marathon dressed in his full firefighting suit and steel toe-capped boots.
He recorded a time of three hours, 41 minutes and 10 seconds in this morning's Cork City Marathon, taking 58 minutes off the previous world record, held by a firefighter based at Heathrow Airport in London.