Golf star Rory McIlroy has said his split from fiancee Caroline Wozniacki was mutual and friendly.
The two-time major winner and former world number one broke off their five-month engagement just days after invitations for the wedding were sent out.
As he prepared for his latest tournament, at the Wentworth course in Surrey, Mr McIlroy said he wanted to get his head into golf, but admitted it would be difficult on the back of a very public break-up.
"Obviously (it's) quite a difficult time for Caroline and myself, and I think the statement really said it all this morning," he said.
"It was mutual and amicable and we both thought it was the best for us, the best for both of us. Time to move on and I think I've said all that I need to say."
News of the broken engagement was confirmed by Mr McIlroy in a statement through his communications consultants in Dublin.
Faced with having to answer for the decision as he prepared for the BMW PGA Championship, Mr McIlroy said: "I'm not going to lie.
"It's going to be very difficult. But you know, at least when I get inside the ropes I can just try and concentrate on the shot at hand. But yeah, it's obviously going to be difficult."
The couple announced their engagement on Twitter last New Year's Eve.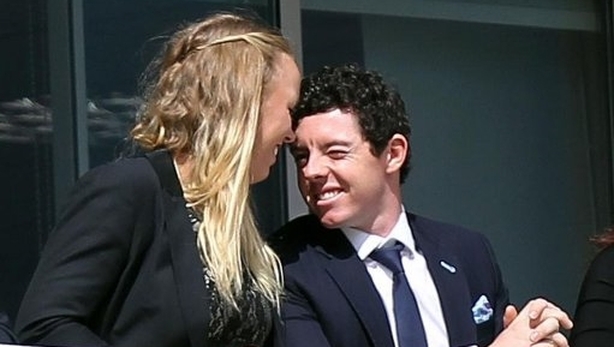 Mr McIlroy appeared downbeat but was quite candid when taking questions ahead of the tournament at Wentworth, where he is fourth favourite to lift the title on a course that does not suit him.
He chanced a rueful but wide smile when asked about spending the weekend on a course that he "loves".
"Look, I think I'm no different than anyone else. Everyone has been through break-ups and it's obviously very, very difficult," he said.
"But look, I'm here to try and concentrate on this week and answer questions about golf and that's what I'm going to do."
Ms Wozniacki, 23, who was born in Denmark to Polish parents, reached world number one in her own sport in 2012 but has yet to win a Grand Slam.
The tennis ace now sits at number 14 in the world rankings with the French Open at Roland Garros coming up next week.
Days before the break-up was announced, Mr McIlroy took to Twitter to rubbish reports that the wedding was to take place in New York in August.
He is now looking to dive into his golf and keep busy in the weeks ahead.
In the statement confirming the split, Mr McIlroy said: "There is no right way to end a relationship that has been so important to two people. The problem is mine.
"The wedding invitations issued at the weekend made me realise that I wasn't ready for all that marriage entails.
"I wish Caroline all the happiness she deserves and thank her for the great times we've had. I will not be saying anything more about our relationship in any setting."