A new exhibition exploring the science, art, positives and negatives of fat has launched at Dublin's Science Gallery.
FAT: IT'S DELICIOUS sets out to challenge visitors' perception of fat, and investigate the paradox of lipids, which are essential for life, yet contribute to death.
Among the 20 art installations and research experiments are a lump of human fat removed from a patient who underwent a "tummy tuck" surgical procedure.
There's also a container of pig fat which will be marinading in alcohol during the course of the exhibition, under the watchful eye of Michelin star chef Kevin Thornton, who intends to cook and serve the contents.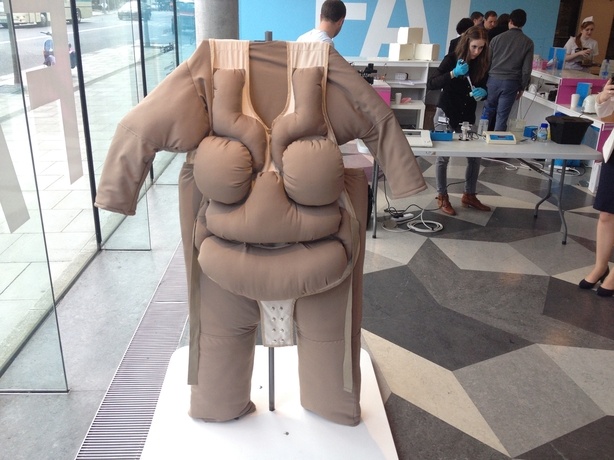 Visitors will also have an opportunity to wear a training suit designed to replicate the proportions and shape of an overweight person.
It is normally used to train medical staff how to help extremely obese patients to move.
The gallery will also double as a working lab for the duration of the exhibition.
A number of researchers will be offering visitors an opportunity to take part in real research into a variety of fat related topics.
These include a bio-electrical impedance analysis of measurements like weight, body fat, and body mass index, which together will be used to research some of the ways our bodies use fat.
A diner which has been installed in the exhibition space will also serve up a menu of demonstrations and interactive explorations of fat, including a bowl of blubber which is used to demonstrate the insulation properties of fat, and a milk and soap mixture designed to show the hydrophobic nature of fatty acids.
There will also be six curated nights where guest chefs, dieticians, scientists and artists will present their take on fat.
Science Gallery Director Lynn Scarff said the exhibition would explore the duality of the substance - fat as a molecule and fat as it appears in the media, usually referring to the issue of obesity.
FAT: IT'S DELICIOUS runs until 29 June.