Ukraine's acting president has called for the restart of an anti-terrorist operation in the east of the country after the body of a local politician from his own party was found showing signs of torture.
Oleksander Turchynov said in a statement that "brutally tortured" bodies had been found near the city of Slaviansk, which is in the hands of pro-Russian militants.
One was that of Volodymyr Rybak, a member of Mr Turchynov's Batkivshchyna party, who had recently been abducted by "terrorists".
"These crimes are being carried out with the full support and indulgence of the Russian Federation," he said.
"I call on the security agencies to relaunch and carry out effective anti-terrorist measures, with the aim of protecting Ukrainian citizens living in eastern Ukraine from terrorists."
Separately, the US will send about 600 US troops to Poland and the three Baltic states to take part in exercises.
Rear Admiral John Kirby said the bilateral exercises planned for Poland, Latvia, Lithuania and Estonia were in addition to the regular training schedule the US military has with those countries and were added due to the events in Ukraine.

"The United States takes seriously our obligations under Article 5 of the NATO alliance, even though these aren't NATO exercises," Adm Kirby said.
"It's a very tangible representation of our commitment to our security obligations in Europe."
US journalist held in Slaviansk
Pro-Russian separatists in eastern Ukraine said they are holding a US journalist in Slaviansk and the online news site Vice News said it was trying to secure the safety of its reporter Simon Ostrovsky.
The self-declared separatist mayor of Slaviansk told a news conference his men were holding a US journalist.
Vyacheslav Ponomaryov did not name him but journalists working in the area said Mr Ostrovsky had been detained by gunmen yesterday, unlike others taken with him, had not yet been released.
Vice News said on its website it was "aware of the situation and is in contact with the US State Department and other appropriate government authorities to secure the safety and security of our friend and colleague, Simon Ostrovsky".
Mr Ostrovsky has been covering the crisis in Ukraine for weeks.
His last posting on Twitter was yesterday when he covered an earlier news conference by the separatist leader.
He noted that during the news conference a woman working with the separatists "called us all liars" and then asked journalists for donations for the funerals of militants who had been killed in a gunfight the previous day.
Biden says US ready to help Ukraine's economy
Meanwhile, US Vice President Joe Biden told Ukrainian presidential candidates and members of parliament today that the US was ready to help Ukraine's economy but warned them they must fight the "cancer" of endemic corruption.
Mr Biden was in Kiev to offer a symbolic show of US support.
He said the presidential election on 25 May would be an opportunity to lay the groundwork for a more unified and prosperous country.
The US, he said, was ready to assist in holding it.
"You're a month away from what I would respectfully suggest... may be the most important election in Ukrainian history," Mr Biden said during a meeting at the parliament building.
His visit to Ukraine follows the signing in Geneva last Thursday of a four-way peace deal to ease tension in eastern Ukraine where pro-Russian separatists have seized towns and key facilities.
The Kiev leadership said the rebellions in the east are inspired and directed by Russia, one of the signatories of the Geneva accord, which annexed Crimea in March.
The Geneva accord is having only limited effect, however, with separatists refusing to put down their arms and pull out of key occupied points in line with the agreement.
Saying Ukraine faced humiliating threats and daunting problems, Mr Biden said the US was ready to assist its leaders in seizing a chance to create national unity.
"The opportunity to generate a united Ukraine, getting it right, is within your grasp. And we want to be your partner and friend," he said.
Mr Biden told the legislators it would take time for Ukraine to achieve energy security but it was within the country's power to do so.
"Imagine where you'd be today if you were able to tell Russia: keep your gas. It would be a very different world," he said.
US: Images show separatists are Russian military
The US State Department has released images, provided by Ukraine, which it said proves armed separatists in eastern Ukraine are actually Russian military or intelligence officers.
It is the latest attempt by the US to disprove Russia's claims that it has nothing to do with the separatists.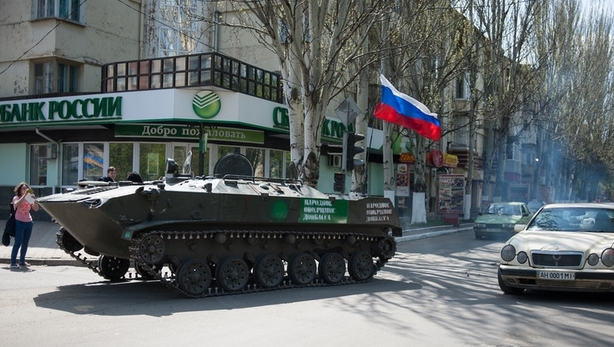 State Department spokeswoman Jen Psaki said as well as those from the Ukrainian authorities, images widely available in the international press or on Twitter indicate the men are Russian forces.
They "show either individuals or signs of a connection between Russia and some of the armed militants in eastern Ukraine," said Ms Psaki.
"So these are just further evidence of the connection between Russia and the armed militants."
A series of photos provided by Ukraine to the US through the Organisation for Security and Co-Operation in Europe (OSCE) shows an image taken in Georgia in 2008 of a man with a distinctive long red beard wearing the insignia of a Russian special forces unit.
The same man, with the beard a little greyer, is seen again in a photo taken at the recent capture of a police station in the Ukrainian town of Kramatorsk by separatist militants, and again in Slaviansk on 14 April, according to the photos provided.
Another series of images, some taken in Crimea, appear to show the same man once more.
More images from Slaviansk show men carrying the same kind of RPG-26 rocket launchers that are issued to Russian troops.
An international agreement to avert wider conflict in Ukraine was faltering yesterday, with separatist gunmen showing no sign of surrendering government buildings they have seized.
US and European officials say they will hold Russia responsible and impose new economic sanctions if the separatists do not clear out of government buildings they have occupied across swathes of eastern Ukraine over the past two weeks.
Ambassador: Ukraine not responsible for weekend killings
The Ukrainian Ambassador to Ireland has said he does not believe that Ukrainian forces were responsible for the killing of three pro-Russian activists who were shot dead in eastern Ukraine at the weekend.
Speaking on RTÉ's Morning Ireland, Sergii Reva said it was Russian television who had reported that Ukrainian forces had carried out the killings.
He said this was a provocation used by Russia to accuse Ukraine of not implementing the Geneva accord on the crisis.
Mr Reva said there was no intention on the part of Russia to go on with the fulfilment of the Geneva accord.
He said one call from Russian President Vladimir Putin to local separatist groups in eastern Ukraine would be enough to stop violence there.