The United States has indications that a toxic chemical, probably chlorine, was used in Syria this month.
The US is examining whether the Syrian government was responsible, the US State Department said.
"We have indications of the use of a toxic industrial chemical" in the town of Kfar Zeita, State Department spokesperson Jen Psaki said, referring to a rebel-held area.
"We are examining allegations that the government was responsible. Obviously there needs to be an investigation of what's happened here."
Syrian opposition activists reported that helicopters dropped chlorine gas on Kfar Zeita on 11 and 12 April.
US ambassador to the United Nations Samantha Power told ABC television's This Week on 13 April that the attack was "unsubstantiated".
Ms Psaki said chlorine was not one of the priority one or two chemicals Syria declared to the
Organisation for the Prohibition of Chemical Weapons, under a Russian-US agreement, for the destruction of Syria's chemical weapons stockpile.
She said the US was still trying to determine the facts.
"We take all allegations of the use of chemicals in combat use very seriously," she said.
"We'll work with the OPCW, who is obviously overseeing the implementation, and determine if any violation occurred."
A UN inquiry found in December that sarin gas had likely been used in Jobar, on the outskirts of Damascus, in August and in several other locations.
These included the rebel-held Damascus suburb of Ghouta, where hundreds of people were killed.
Syria to hold Presidential election in June
Meanwhile, the US and its Western allies have condemned Syria's decision to hold a presidential election in June, despite the country's continuing civil war.
Britain's Foreign Office said the poll was designed to sustain the dictatorship of Bashar-Al Assad, while the US State Department described it as a "parody of democracy".
United Nations Secretary General Ban-Ki Moon condemned the plan, saying it could torpedo efforts to broker a deal to end the country's civil war, which is now entering its fourth year.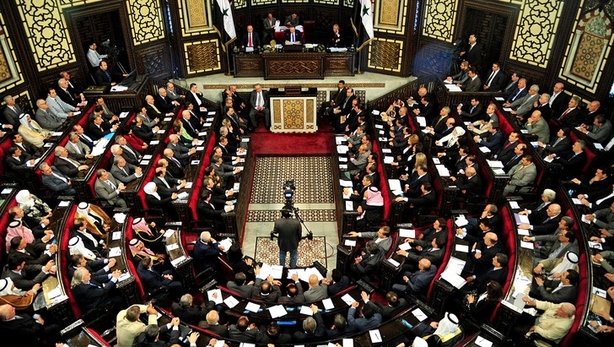 President Assad is expected to seek a third term in office.
Most opposition leaders who have fled the country are excluded from standing as a result of a new law stipulating that all candidates must have lived in Syria for the past ten years.