Meb Keflezighi has become the first US male athlete to win the Boston Marathon in three decades, the first running of the race since last year's fatal bombing attack.
Mr Keflezighi, who was born in Eritrea but is now a US citizen, set an official time of two hours, eight minutes and 37 seconds.
Wilson Chebet of Kenya finished second and compatriot Frankline Chepkwony was third.
The last US man to stand atop the podium on Boston's Boylston street was Greg Meyer, who won in 1983.
Three people died and 264 were injured in a bomb attack at the finish line of last year's marathon.
Race organisers expanded the field by around 9,000 runners this year, to allow 5,000 athletes who had been left on the course last year when the twin pressure-cooker bombs went off another chance to compete.
Massachusetts Governor Deval Patrick said added security measures, including a higher than usual police presence, would assure a "very safe" atmosphere at the race.
He said there was an effort to provide adequate security while retaining the race's traditional atmosphere so that it does not become "a race through a militarised zone."
Tens of thousands of expected spectators face new restrictions, including bans on carrying backpacks into the race corridor.
Around 36,000 people, the second-largest field in the race's 118-year history, set out from Hopkinton, a town west of Boston, for the 26.2-mile race that finishes on Boston's Boylston Street.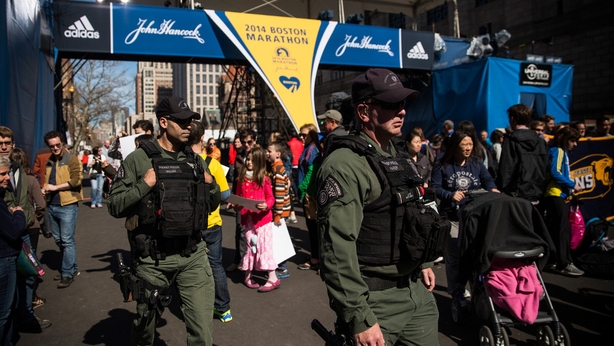 Memories of the attack were stirred after a memorial service on Tuesday, when a shoeless man in a black veil, shouting "Boston Strong" dropped a backpack on the street near the finish line.
Police said the backpack contained a rice cooker. The man was arrested and charged with possession of a hoax device.
One runner today will be Lukman Faily, the Iraqi ambassador to the United States, who will take part to show solidarity with the people of Boston and the US.
It will not be his first marathon, as he also ran after the 2011 Fukushima tsunami while stationed in Japan.
"We will stand with each other in defying terrorism and making a pure sporting event, a sporting statement that terrorism will never prevail," Mr Faily said. "If the marathon was stopped because of last year's event, then they would have won."
Two ethnic Chechen brothers, Dzhokhar and Tamerlan Tsarnaev, are accused of carrying out last year's bombing.
After the attack the brothers went on the run before engaging in a gun battle with police in which Tamerlan Tsarnaev was killed and his brother escaped.
After a manhunt that shut down the greater Boston area and involved helicopters and armoured vehicles, Dzhokhar was caught in the Boston suburb of Watertown, wounded and hiding in a boat.

Now aged 20, he is awaiting trial and faces the death penalty if convicted.