President Michael D Higgins has arrived back in Ireland following his State visit to the UK.
The plane carrying the Presidential party touched down at Casement Aerodrome in Baldonnel just before 6pm.
The President was welcomed by a reception committee before being escorted to Áras an Uachtaráin.
Earlier today, President Higgins said the Irish and British "are not required to be sentimental about each other" but urged those who were unhappy with the State visit to the UK "think of all the things we have in common".
Speaking at a press conference before his return to Ireland, he said "there is no attempt to force amnesia" about the past.
Asked about Martin McGuinness' involvement in the State visit he said, it was "very important that all those invited participated so fully".
He said: "It is very important to respect each other's memories" and he "hasn't the slightest difficulty in recognising shared grief".
The President said he was moved by the reception he and his wife Sabina received at every level.
He said it was clear in his conversations with Queen Elizabeth II that "we weren't just going through the motions of a State visit... we discussed the necessity of being vigilant".
President Higgins and Sabina visited Coventry Cathedral this afternoon, one of the oldest centres of religious reconciliation in world.
The old cathedral ruins are a memorial to all civilians killed, injured or traumatised by war and violent conflict worldwide.
There is a large Irish community living in Coventry and the surrounding areas.
President Higgins and his wife then travelled to a community event, meeting local organisations offering care services to vulnerable Irish emigrants, at risk of homelessness, social isolation or alcoholism.
It took place at St Mary's Guildhall and was hosted by Coventry City Council.
The presidential party left Windsor Castle this morning and travelled to the Royal Shakespeare Company in Stratford-upon-Avon.
British Ambassador to Ireland Dominic Chilcott earlier said the visit by President Higgins had exceeded expectations.
Speaking on RTÉ's Morning Edition, he said all the inhibitions the two countries had about seeing the best in each other had fallen away over the past few days and there was a real spirit of reconciliation and shared purpose.
He also played tribute to the leadership shown by the principal players in the visit, including that of Northern Ireland Deputy First Minister Martin McGuinness.
At a cultural event at the Royal Albert Hall in London last night, President Higgins described the State visit as positive, uplifting and hopeful.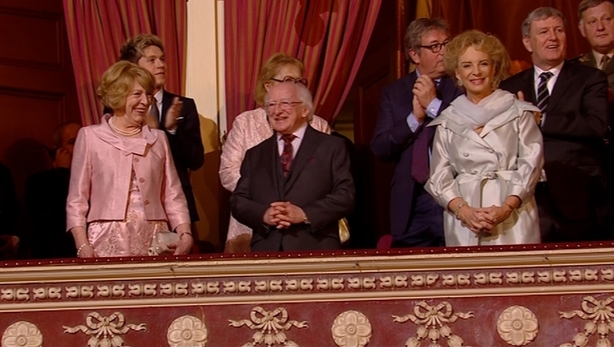 He took to the stage after the concert and said: "On a night like this, it is great to be Irish."
He added it was "even better" to share it with "our friends in Britain".
President Higgins was guest of honour at the concert on the penultimate day of the visit.