A Pennsylvania tree surgeon has survived an on-the-job accident that sent a chainsaw blade several inches into his neck and shoulder.
Hospital officials said the man is expected to make a full recovery.
James Valentine, 21, was part of a crew pruning trees on Monday afternoon when his saw suddenly kicked back and the blade sliced into him.
His co-workers brought him down from the tree and he was taken to Allegheny General Hospital in Pittsburgh, Pennsylvania.
"I felt it, like I shut the saw off because it was in me, it was still running and then like, and then I saw blood and I was just like oh my gosh, what in the world," Mr Valentine told the NBC News local affiliate WPXI.
Emergency workers removed the motor of the saw, but left the blade in Valentine's neck and shoulder to prevent additional blood loss, said Christine Toevs medical director of the trauma ICU at Allegheny General Hospital and the trauma surgeon who operated on him.
Fortunately for Mr Valentine, the blade missed his carotid artery and most of the damage was to his shoulder muscle, Ms Toevs said.
It was an encouraging sign for the trauma team that when he was admitted, Mr Valentine was still able to speak.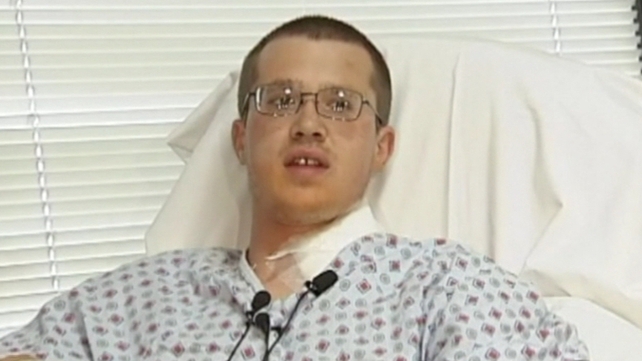 "[In] his case, blessedly, he missed every important structure, just had a little muscle, what we call muscle and soft tissue and skin and we fixed that and repaired that and he's done quite well," she said.
Ms Toevs speculated that while Mr Valentine was sawing into a branch, the blade hit a knot in the wood, causing the chainsaw to kick back.
Mr Valentine is likely to make a full recovery, according to Ms Toevs, who expects he will be released from the hospital today but will need several weeks to completely heal.