Russian troops forced their way into a Ukrainian airbase in Crimea with armoured vehicles, automatic fire and stun grenades, injuring a Ukrainian serviceman and detaining the base's commander for talks.
Armoured vehicles smashed through one of walls of the compound and bursts of gunfire and grenades were heard.

Colonel Yuliy Mamchur, the commander of the base, said a Ukrainian serviceman had been injured and that he himself was being taken away by the Russians for talks at an unspecified location.

Asked if he thought he would return safely, he said: "That remains to be seen. For now we are placing all our weapons in the base's storage."

Belbek was one of the last military facilities in Crimea still under Ukrainian control following Russia's armed takeover and subsequent annexation of the peninsula, which has a majority ethnic Russian population and is home to one of Russia's biggest naval bases.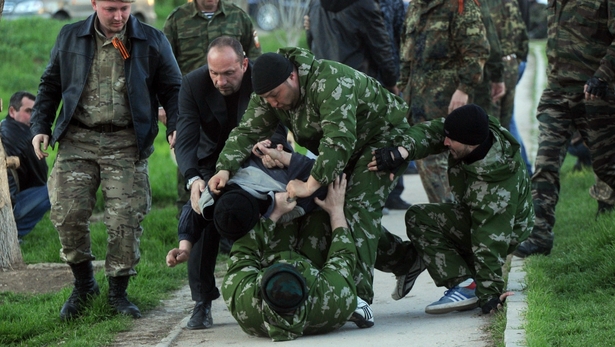 Earlier, the deputy commander of the base, Oleg Podovalov,said the Russian forces surrounding the base had given the Ukrainians an hour to surrender.

After the Russians entered, a Ukrainian officer who identified himself only as Commander Vladislav said: "We did not provoke this, this was brute force. I do not know whether this base will be formally in Russian hands by the end of the day.

"Ever since World War Two, this place has been quiet, and they came in here firing, with APCs and grenades. I am very worried now."

The commander told his troops he would inform the high command that they had stood their ground. The soldiers applauded, chanting "Long live Ukraine!"

Many stood to take pictures of each other in front of the Ukrainian flag, which continued to fly over the base.

The Russian takeover of Crimea has been largely bloodless,though one Ukrainian serviceman was killed and two others wounded in a shooting in Simferopol earlier this week.

Ukraine's Defence Ministry said yesterday that Crimea's bases were still formally under Ukrainian control, but most are now occupied by Russian troops and fly Russia's flag.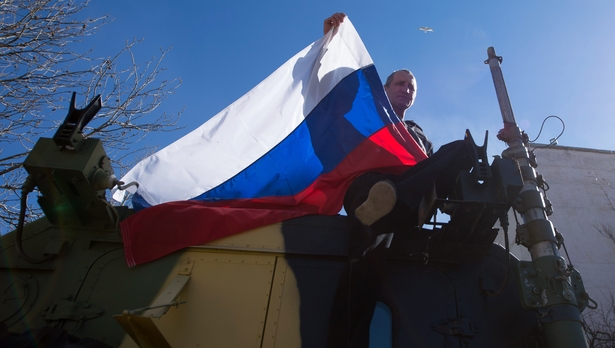 Elsewhere, Ukrainian police seized 42kg of gold and $4.8m in cash during a search of the apartments of Ukraine's former Energy Minister Eduard Stavytsky, Interior Minister Arsen Avakov has said.
Mr Avakov said the searches had been conducted in connection with a corruption investigation in the energy sector.

"It blew my mind when I received a report on the results this morning. How much would one have to steal, to have such a 'trifle' at home as pocket money," Mr Avakov said in a post on Facebook.

Mr Stavytsky's career blossomed under the presidency of ousted Viktor Yanukovych and was appointed energy minister in December 2012.

Ukrainian media describe Mr Stavytsky as a member of Mr Yanukovych's inner circle. He could not be reached for comment.

Ukrainian police on Friday detained another energy official - the chief executive of state energy company Naftogaz, Yevhen Bakulin, as part of the investigation into corruption that it says may have cost the Ukrainian state about $4bn.

Naftogaz is responsible for the import and distribution of Russian natural gas in Ukraine.
It also holds a monopoly on the shipment of gas from Russia's Gazprom via Ukraine to Europe.
Russia's foreign ministry has said Moscow has the right of a tit-for-tat response to the second wave of sanctions imposed by the European Union over Russia's annexation of the Ukrainian region of Crimea.
The EU imposed an new set of sanctions adding 12 Russians and Ukrainians to a list of people targeted by EU asset freezes and travel bans.
There are now 33 on the list. .
In a separate statement, the ministry said Moscow hoped the decision to send to Ukraine a monitoring mission of the Organization for Security and Co-operation in Europe would help resolve what it called an "internal Ukrainian crisis".
After several failed attempts in recent weeks, Russia agreed to join the 56 other members of the OSCE in a consensus decision to send a six-month monitoring mission to Ukraine.
"The mission's mandate reflects the new political and legal realities and does not apply to Crimea and Sevastopol, which became a part of Russia," Russian Foreign Ministry said in its statement.
"Russia hopes that the objective and impartial work of the international observers will help to overcome the internal Ukrainian crisis, stop rampant nationalist banditry, eradicate ultra-radical tendencies."
At first, 100 monitors will be sent to locations around the country including Russian speaking areas in the east.
They will not be allowed access to Crimea which has been annexed by Russia.