Fianna Fáil Leader Micheál Martin has accused the Government of leading a two-tiered economic recovery that is creating a more unequal society.
In his leader's address at the 75th Fianna Fáil Ard Fheis, Mr Martin said such a recovery will limit opportunity and will result in an ever-rising burden falling on already squeezed families.
Mr Martin said the two-tiered recovery stems from Government choices such as taxes, which take no account of ability to pay, and cuts targeted directly at the elderly and children with special needs.
He claimed that a number of studies carried out over the last three years show the Government's policies are deeply unfair and are setting the foundations for long-term problems.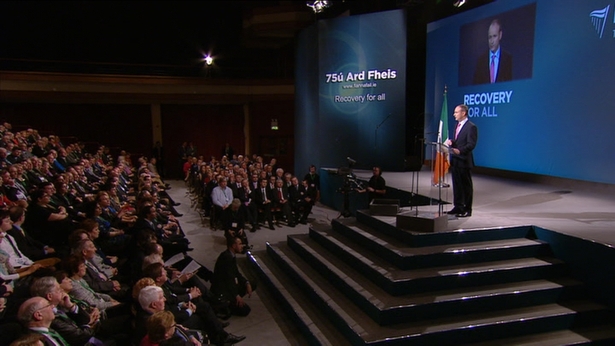 This week will mark the tenth anniversary of Mr Martin introducing the smoking ban as Minister for Health.
He said the latest independent report shows that almost 4,000 people are alive today because of the ban and that is something everyone in the country has a right to be proud of.
Mr Martin said Fianna Fáil believes in a public health system and it will oppose the plan to privatise it.
Addressing the garda whistleblower controversy he said there is something very wrong with Minister for Justice Alan Shatter still keeping his job after refusing to apologise for falsely attacking members of the gardaí.
As the party conference concludes the focus of delegates will now firmly turn to the Local and European Elections that will take place two months from tomorrow.
Up to 3,000 delegates attended the Ard Fheis.