The Israeli military said it bombed 29 targets in Gaza after Palestinian militants in the coastal territory earlier fired 60 rockets into Israel.
Israeli Prime Minister Benjamin Netanyahu said he had ordered the military "to take any action necessary to restore calm" to Israel's south.
He said: "If there is no quiet in the south then it will be noisy in Gaza, and that's an understatement."
The rocket fire, which police said resulted in no casualties, was claimed by the Islamic Jihad group and came a day after Israel killed three of its members in a Gaza airstrike.
A military spokesman said 60 rockets hit Israel "in a simultaneous coordinated attack," and five landed in built-up areas.
Israel bombed 29 militant targets in response, he said.
Israeli forces fired tank shells in response at what the spokesman described as "two terrorist locations" in Gaza.
Israeli warplanes bombed five militant training camps, Palestinian officials and witnesses said.
There were no immediate reports from the Palestinian enclave of any casualties.
"It's a (rocket) barrage such as we haven't seen for two years," Haim Yellin, a local Israeli municipal official in the south, told Army Radio.
He was referring to an eight-day war between Israel and Palestinian militants in Gaza in November 2012.
Sirens sounded in several communities across southern Israel to alert residents to take shelter and general warnings urged everyone in the area to remain indoors.
The Israeli military said it targeted and killed the three Islamic Jihad militants yesterday after they fired mortar bombs at Israeli soldiers.
Islamic Jihad said at the time that its men had been killed confronting Israeli troops who had entered Gaza.
Commenting on today's barrage, Islamic Jihad said it had fired 90 rockets towards Israel and named the operation "Breaking the Silence".
Palestinian officials said that after the rocket strikes, Israel had informed them that it was closing the Kerem Shalom crossing, through which goods pass into Gaza, until further notice.
Israel pulled its soldiers and settlers out of the territory, run by Hamas Islamists, in 2005.
But it maintained a naval and air blockade and severely restricted the overland movement of people and goods across the volatile border.
Palestinian President Mahmoud Abbas issued a statement via his spokesman urging an end to what he called "Israeli military escalation in the Gaza Strip".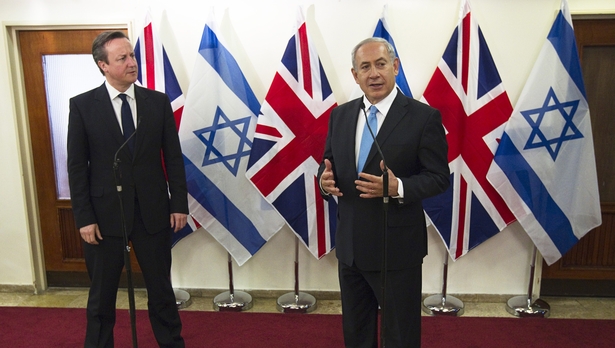 The attacks came just hours after British Prime Minister David Cameron arrived on his first official visit to Israel since taking office in 2010.
Mr Cameron condemned the attack, describing it as "despicable and wicked".
Standing alongside Mr Netanyahu at his official residence in Jerusalem, Mr Cameron said: "Let me say again how important it is for the whole international community to say with one voice that Palestinian statehood can only come about through dialogue and discussion.
"It can never come about through violence or terror."