The Government has released a progress report on the Coalition's three-year record in office and set priorities for the remainder of its term.
Taoiseach Enda Kenny and Tánaiste Eamon Gilmore said they would be doing more to support the domestic economy and will be setting out plans for more jobs in the construction sector in particular.
The document sets out growth targets for the economy of 2% this year, 2.5% next year and 3% by 2016, leading to a restoration of full employment by 2020.
Mr Gilmore described 2014 as a pivotal year in Ireland's economic recovery.
He said Ireland was now regarded as one of Europe's success stories, but the test for the Government was to ensure that everyone shared in the recovery.
The first half of the Government's term had focused on tackling the economic crisis, while the second would be devoted to ensuring that everyone benefited from its recovery, Mr Gilmore said.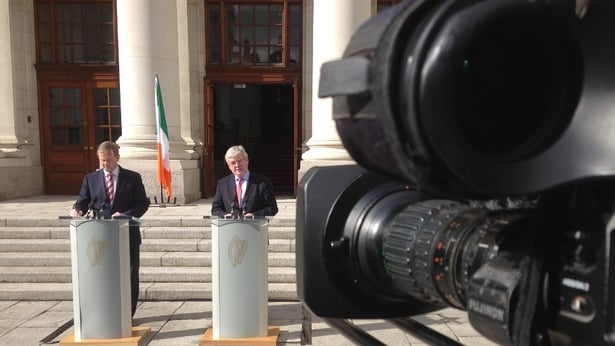 Mr Kenny said the Coalition took over "when the national finances were out of control" and he is happy to say that "three years on we've seen much progress".
He said the Government has seen "excellent results in implementing the Programme for Government with progress reported on 80% of all of the commitments".
Mr Kenny said that while unemployment figures are still much too high, the Government is continuing with its "relentless focus on job creation", with 61,000 jobs being created, equating to 1,000 jobs a week.
However, he said so many people still do not feel any sense of change.
The Taoiseach said the Government is focusing on full employment by 2020, encouraging the domestic economy, and having a sustainable banking system.
The Tánaiste later pointed to initiatives such as free GP care for children under six and the free schoolbook scheme as examples of policies that distributed the fruits of recovery.
Asked about the Government's failure to tackle upward-only rent reviews, Mr Gilmore said they had come at the problem in a different way by changing the law on receivership.
Most of the week in the Dáil will be given over to a mid-term review of the Government's progress to date.
Mr Kenny told TDs that today's Cabinet formally committed to Minister for Health James Reilly's plan for universal health insurance.
Though it was not possible to say what the average charge would be at this stage, he said there would be a widespread public consultation process in which the Oireachtas health committee would play a central role.
Fianna Fáil leader Micheál Martin claimed the purpose of this was to long finger the plan so that details would not emerge until long after this year's elections.