Emotional crowds on Kiev's Independence Square rounded on opposition leaders after they signed an EU-mediated peace deal and said they would not wait any longer for President Viktor Yanukovych to go.
Passions ran high as the coffin of a victim from yesterday's violence was borne through the crowd to the stage on the square, apparently catching opposition leaders off guard.
Many on the square were in no mood to call off the protests despite the deal.
After another open coffin was held aloft by the crowd, a protester wearing battle-fatigues leapt up to the microphone and triggered roars of approval as he declared: "By tomorrow we want him (Yanukovych) out!"
Referring to the three opposition leaders, including boxer-turned-politician Vitaly Klitschko, who were standing behind him, the man said: "My comrade was shot and our leaders shake the hand of a murderer. It's a disgrace."
"We have given you politicians a chance to become ministers in the future, even the president, but you don't want to fulfil our one demand - that this criminal leave office."
"We, simple people, are telling the politicians behind our back, that there is no way Yanukovych will be president for the whole year. He has to be gone by 10am tomorrow."
"If it is not announced by 10 tomorrow that Yanukovych is gone, we're going to attack with weapons," he said.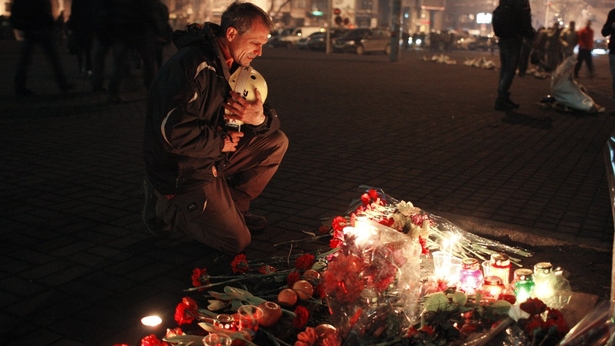 Earlier Mr Klitschko drew cat-calls and derisive whistling from the crowd when he had praised as "very important" their political achievements during the day.
Mr Klitschko and his fellow opposition leaders, Arseny Yatsenyuk and nationalist Oleh Tyanibok, signed the deal with Mr Yanukovych in which the president made important concessions after two-and-a-half months of confrontation on the streets of Kiev.
These included early elections, formation of an interim government and a return to an earlier constitution which will mean him giving up key powers, including control over the make-up of the government.
Mr Klitschko later apologised for shaking Mr Yanukovych's hand, taking the microphone and telling the crowd: "If I offended anyone, I ask their forgiveness."
But many among the protesters were firm in their rejection of the accord.
One protester said: "We won't follow Klitschko and the rest of them. They shook hands with a gangster and danced with the devil."
After the deal was signed this afternoon, German Foreign Minister Frank-Walter Steinmeier said it provided for the creation of a national unity government and an early presidential election this year, although no date had been set.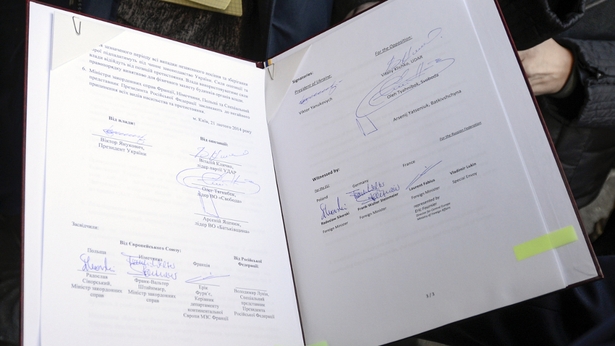 The vote had been due in March 2015.
Polish Foreign Minister Radoslaw Sikorski described the agreement as a "good compromise for Ukraine".
The health ministry said 77 people had been killed since Tuesday afternoon, which meant at least 47 died in clashes yesterday.
EU foreign ministers meeting in Brussels yesterday imposed targeted sanctions on Ukraine and threatened more if the authorities failed to restore calm.
"There are no steps that we should not take to restore peace in Ukraine," Mr Yanukovych said when announcing his concessions before the deal was signed.
"I announce that I am initiating early elections."
The president said Ukraine would revert to a previous constitution under which parliament had greater control over the make-up of the government, including the prime minister.
"I am also starting the process of a return to the 2004 constitution with a rebalancing of powers towards a parliamentary republic," he said.
"I call for the start of procedures for forming a government of national unity."
Parliament later voted to dismiss acting Interior Minister Vitaly Zakharchenko for using "violence" against protesters.
Mr Zakharchenko is a hated figure on Kiev's Independence Square because of several police crackdowns on anti-government protesters.
His dismissal will be seen as a victory for the protest movement.
Parliament also amended a criminal code that could pave the way for the release of jailed opposition leader Yulia Tymoshenko.
A total of 310 deputies in the 450-seat Verkhovna Rada voted to decriminalise the "abuse of power" statute under which Ms Tymoshenko was jailed for seven years in 2010.
The measure must still be signed by the president to enter into force.
Anger, defiance, tears, despair and some hope on show at #Maidan as protestors consider deal #Kiev pic.twitter.com/R5VyrUZirF

— Paul Cunningham (@RTENewsPaulC) February 21, 2014
Poland's foreign minister said he had received signals in Kiev that the Ukrainian president was prepared to use force should the opposition have rejected the deal.
"We were getting signals that in case the agreement fails, President (Viktor) Yanukovych was preparing to use Interior Ministry forces," Mr Sikorski told reporters in Warsaw this evening after returning from Kiev.
"If the agreement would fail, due to the opposition rejecting it ... politically, it would have been easier for him (Yanukovych) to use force," Mr Sikorski added.
"That's why the situation was so dramatic."
Council of protesters back agreement
Earlier, a Polish foreign ministry spokesman said a council of protesters occupying Kiev's Independence Square had backed the agreement.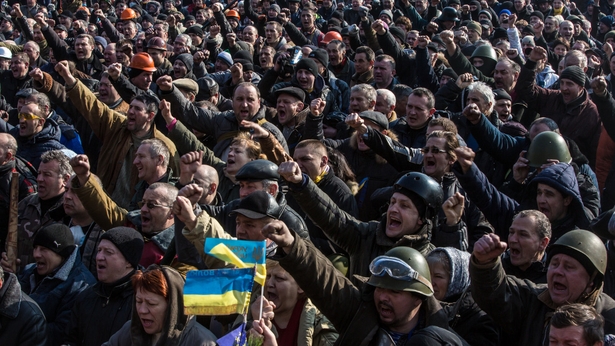 The civic council "has voted in favour of the three opposition leaders signing the agreement with President Yanukovych concerning resolving the conflict", the ministry's spokesman, Marcin Wojciechowski, said on Twitter.
Before the deal was signed, armed police briefly entered the parliament building while politicians were holding an emergency session but they were quickly ejected, Mr Yatsenyuk said.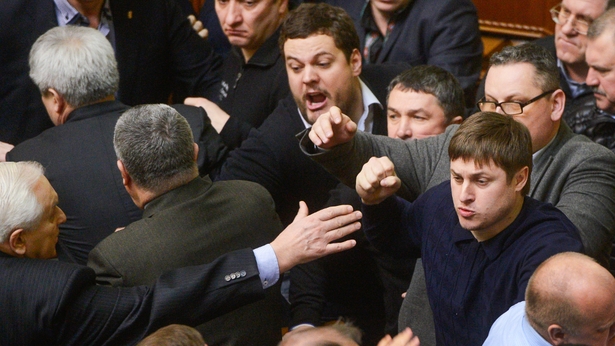 Members exchanged punches when speaker Volodymyr Rybak tried to adjourn proceedings.
Opposition deputies were angered because it would mean delaying a possible vote on a resolution pressing for constitutional changes to restrict the president's powers.
The speaker left the chamber and debate continued.
The deal would be a setback for Russian President Vladimir Putin, who has made tying Ukraine into a Moscow-led Eurasian Union a cornerstone of his efforts to reunite as much as possible of the former Soviet Union.
Mr Putin appointed his own envoy to the talks at Mr Yanukovych's request yesterday but it was not clear what role, if any, Russian officials had in the negotiations.
Ukraine's credit rating cut by Standard & Poor's
In another sign of the severity of the crisis, ratings agency Standard & Poor's cut Ukraine's credit rating for the second time in three weeks today, citing the increased risk of default.
S&P said latest developments in the crisis made it less likely that Ukraine would receive desperately needed Russian aid.
Ukraine cancelled a planned issue of five-year Eurobonds worth $2 billion, it told the Irish Stock Exchange where the debt would have been listed.
Ukraine had hoped Russia would buy the bonds to help it stave off bankruptcy.
Russia's economy minister said it was still undecided on the next $2 billion instalment and was awaiting clarity on the government in Ukraine.
Earlier, violence flared again in Kiev as politicians pondered the draft agreement.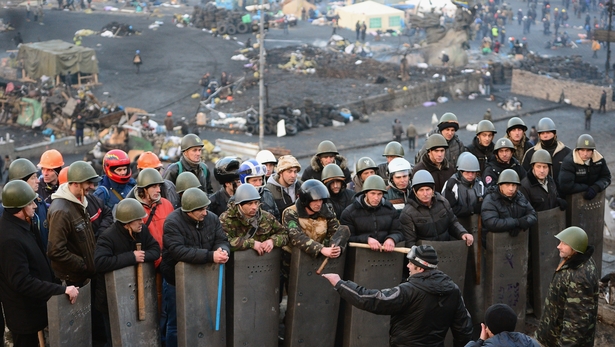 Police said anti-government militants fired on security forces near the capital's central Independence Square.
"Participants in the mass disorder opened fire on police officers and tried to burst through in the direction of the parliament building," police said in a statement.
It did not say whether riot police had returned fire.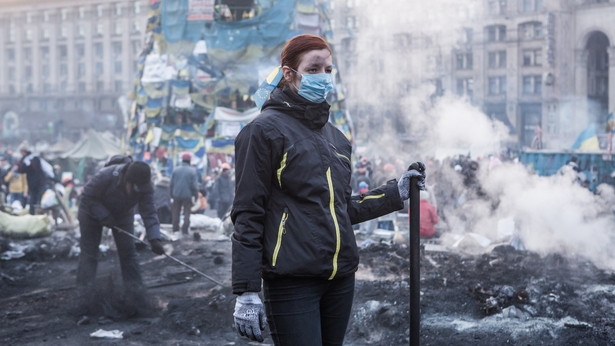 The United States welcomed the deal and called for an immediate start to its implementation.
A US official said President Barack Obama and Mr Putin were to speak by telephone later following the breakthrough agreement.
White House spokesman Jay Carney earlier said the Ukraine pact was "consistent with what we have advocated in calling for a de-escalation of the violence, constitutional change, a coalition government, and early elections."
Worst violence in Ukraine in decades
Riot police yesterday were captured on video shooting from a rooftop at demonstrators in the central plaza, known as the Maidan.
Protesters hurled petrol bombs and paving stones to drive the security forces off a corner of the square the police had captured in battles that began two days earlier.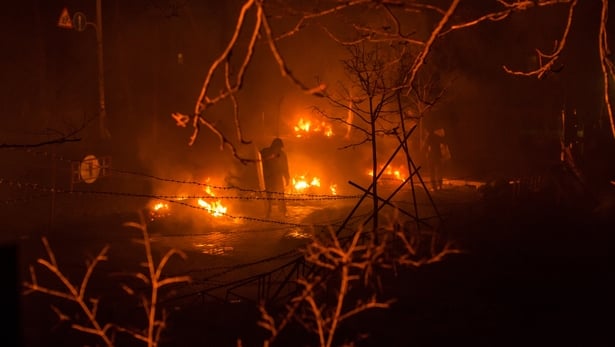 This week's clashes have been by far the worst violence since Ukraine emerged from the crumbling Soviet Union 22 years ago.
Vigil held to remember the dead
In Kiev, demonstrators on Independence Square held a vigil after dark for fallen comrades, lit by mobile phone screens held aloft.
Medics carried bodies on stretchers through lines of protesters who chanted, "Heroes, heroes" to the dead.
Although armed militants on the barricades tend to be from the far-right fringe, the opposition has broad support. But many Ukrainians also fear violence slipping out of control.
"This is brother fighting brother," said Iryna, a local woman walking to Independence Square to donate syringes for blood transfusions. "We need to realise we're all one people."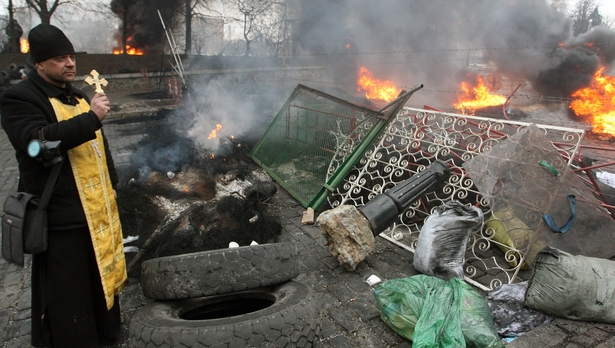 Kiev residents emptied bank machines of cash and stockpiled groceries, with many staying off the streets.
Follow RTÉ's Paul Cunningham in Kiev on Twitter @RTENewsPaulC