A deadly winter storm has brought heavy snow, freezing rain and potentially historic accumulations of ice to the southeastern United States.
The storm has caused thousands of power outages and severely disrupted transport.
The worsening storm stretched from eastern Texas to the Carolinas, and is likely to reach the Middle Atlantic states by tonight, National Weather Service meteorologist Roger Edwards said.
"It's unusual to have an ice storm that far east in the Deep South," he said.
The wintry mix has already caused two weather-related traffic deaths in Mississippi, and three in northern Texas, authorities said.
More than 2,700 US flights were cancelled and hundreds more delayed, according to flight-tracking websiteFlightAware.com.
Up to 2cm ice was expected in a broad section of Georgia, including metropolitan Atlanta. Some areas could see more than 2.5cm.
The Interstate 20 corridor from north central and northeastern Georgia into South Carolina would be among the hardest hit by icy conditions, Mr Edwards said.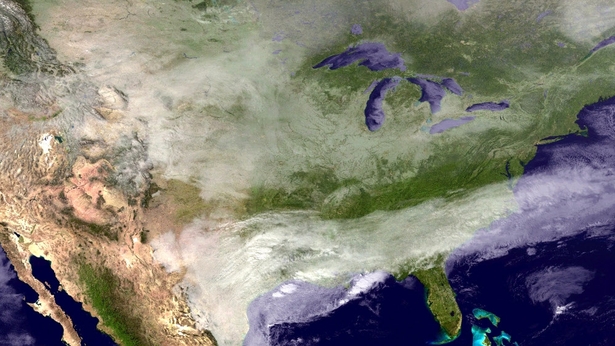 Snowfall totals were expected to be unusually high in the region.
Government officials were quick to make plans to deal with the impact of the storm, following another two weeks ago that paralysed Atlanta-area roads and forced more than 11,000 students in Alabama to spend the night at their schools.
Hundreds of schools and government offices across the South were closed today, and power outages started to climb as the weather conditions that forecasters had warned about for days took shape.
Conditions deteriorated overnight as a swath of the Deep South, from Alabama through South Carolina, was deluged with rain, sleet and snow, and residents prepared themselves for freezing rain and slick road.
The last significant ice storm in Georgia was in January 2000, when up to 1.3cm of ice left more than 350,000 people without power, weather service meteorologist Dan Darbe said.
With the latest storm, "we're talking a much larger area and a much larger amount of ice", he said