A body has been recovered during a search in west Cork for two Dutch tourists who have been missing since Saturday afternoon.
The body was seen in an inlet at around 12.30pm, but it took another couple of hours to recover it as access was very difficult.
A major land and sea search for the second man has been stood down for the night and is due to resume on Tuesday morning.
The two men had been staying in a holiday home in Kilcrohane belonging to one of their mothers.
She last spoke with them on Saturday when they indicated they might go for a walk along Sheep's Head.
Weather conditions were poor at the time, with gale force 11 easterly winds and high waves.
Speaking on RTÉ's Six One, Michael O'Regan from the Goleen Coastguard said conditions today were very difficult, but rescue teams were hopeful the second man would be found.
Gardaí were alerted at 11.30pm and, following a local search, the Coast Guard Service at Valentia was alerted at 2am.
The naval vessel, the LÉ Eithne, is coordinating operations from the sea.
The RNLI lifeboat from Castletownbere is also taking part in the search.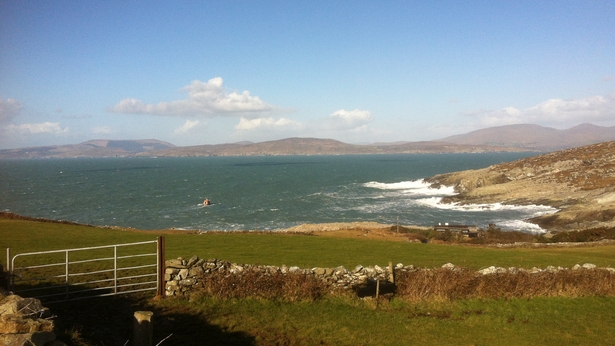 Around 20 members of the coast guard units from Castletownbere, Goleen, Toehead and Glandore, as well as neighbours, were involved in the search along the exposed coastline.
Gardaí tried to trace the men through a mobile phone belonging to one of the men, which rang but was not answered.
The men's wallets were found in the house where they were staying. Their car was parked outside.