Ukrainian President Viktor Yanukovych has gone on sick leave with a respiratory ailment, his website has announced, with the issue of a new prime minister still undecided.
"The president of Ukraine has been officially registered as sick with an acute respiratory ailment and a high temperature," the website said.
The 63-year-old has not had a history of ill health.
Mr Yanukovych later defended his record in handling the political crisis and accused the opposition, which is demanding his resignation, of provoking the unrest.
He said: "We have fulfilled all the obligations which the authorities took on themselves.
"However, the opposition continues to whip up the situation, calling on people to stand in the cold for the sake of the political ambitions of a few leaders."
Mr Yanukovych's prime minister, Mykola Azarov, resigned on Tuesday in the midst of mass street unrest, and the president has yet to appoint a successor.
Serhiy Arbuzov, who was Mr Azarov's first deputy, has stepped in as interim prime minister.
It comes as Ukraine's parliament adopted a law granting amnesty to arrested anti-government protesters, but only if opposition demonstrators leave most of the government buildings they have occupied.
At a late parliament session, an amnesty bill that would free activists was passed with the ruling Regions Party but opposition MPs defiantly refused to vote.
President Yanukovych has granted several concessions to protesters who have packed the centre of Kiev for the last two months, but there was no end in sight to Ukraine's worst crisis since independence.
Earlier this week, Mr Azarov resigned and parliament scrapped tough anti-protest laws but the opposition wants nothing short of the president's departure.
Underlining the gravity of the crisis, Ukraine's first post-independence president Leonid Kravchuk yesterday warned that the country was "on the brink of civil war."
"It is a revolution. It is a dramatic situation in which we must act with the greatest responsibility," said Mr Kravchuk, who was president from 1991 to 1994.
Protesters, some from right-wing radical groups, remain camped out in much of the city centre of Kiev and have now erected wooden watchtowers at their barricades.
They are still occupying key municipal buildings including the Kiev city hall.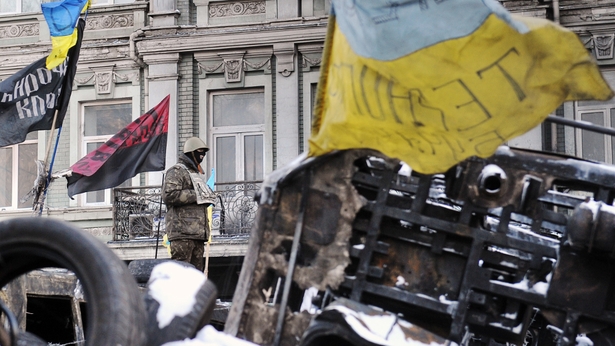 EU foreign policy chief Catherine Ashton said after meeting Mr Yanukovych that it was time for "real dialogue" to start and for "the violence and intimidation" to stop.
Three activists were shot dead in clashes between police and protesters in Kiev last week, but tensions have calmed somewhat since negotiations between the government and the opposition gained traction.
The crisis will influence the future strategic orientation of the nation of 46 million people sandwiched between Russia and the EU and whose economic potential remains unfulfilled.
Russian President Vladimir Putin, seen as the key international player in the crisis, told German Chancellor Angela Merkel that "any outside interference is unacceptable," the Kremlin said.
Ms Merkel for her part told Mr Putin to push for a "constructive dialogue" to defuse the crisis in Ukraine, her office said.
In a sign of Russia's economic influence over Ukraine, Mr Putin said Russia would wait until a new government is formed in Ukraine before it considers releasing a crucial $15bn bailout package for Kiev in full.
US considers sanctions
Meanwhile, the US administration is consulting with politicians about imposing possible sanctions on Ukraine.
Several US officials have warned the US may impose sanctions if the Ukrainian government moves to use wide scale force to quell demonstrations by pro-European protesters.
The US has "revoked the visas of several Ukrainians implicated in violence against peaceful protestors," State Department spokeswoman Jen Psaki said, without naming the individuals.
"We're willing to consider sanctions. No decision has been made," she stressed to reporters.
Given the concerns about the political crisis "we've had consultations, of course, with members of Congress, but it is not a reflection of a decision being made about a forward step".
In his talks with opposition leaders, US Secretary of State John Kerry "underscored the United States' unwavering support for the democratic European aspirations of the Ukrainian people and commended these opposition leaders for speaking out against violence," Ms Psaki said.