International mediator Lakhdar Brahimi has said a first day of face-to-face talks between Syria's opposing sides had not yielded significant results.
He said he hoped that they would lead to aid supplies reaching the besieged city of Homs.

Mr Brahimi told a news conference after two meetings between the government and opposition delegations at United Nations headquarters in Geneva that: "We haven't achieved much but we are continuing,"

He said if an agreement could be reached tomorrow, a humanitarian convoy could move into Homs city the next day.
Mr Brahimi also said he planned to discuss tomorrow prisoner releases by the two sides.
He said that he set out his plans in the morning meeting for the progress of the talks over the coming weeks.
The talks in Geneva are aimed at ending almost three years of conflict.
In a measure of the task ahead, diplomatic sources said the first two days of talks will involve discussing a deal to allow aid into a single city, Homs, where people are starving.
Speaking this morning a Syrian government minister reiterated its rejection of a proposal to form a transitional ruling body as part of a political solution.
"We have complete reservations regarding it," Information Minister Omran Zoabi told reporters.
"Syria is a state with institutions," Mr Zoabi said.
"A transitional governing body happens where the state is in disintegration, or has no institutions."
The peace conference almost collapsed yesterday, the day face-to-face talks were meant to start, and was only put back on track after Lakhdar Brahimi persuaded the two sides to focus on smaller issues on which there might be agreement.
"We do expect some bumps on the road," Mr Brahimi told a news conference after separate meetings with the two delegations.
With international divisions over how to end the conflict putting an overall political solution out of reach for now, the two sides will focus on small, confidence-building steps with no certainty negotiations will even last the week.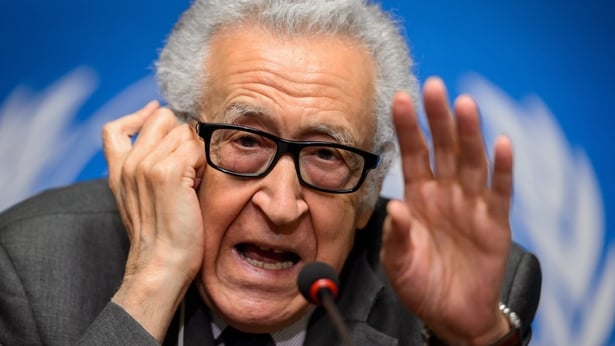 Humanitarian access for Homs, where rebels are surrounded in central districts by forces loyal to President Bashar al-Assad, could be agreed quickly.
"The practical aspects have been worked on. Things are ready and if the government doesn't put a block on it then it could happen quickly," a diplomatic source said.
But deep mutual mistrust and the absence from Geneva of powerful Islamist opposition groups and Mr Assad's ally Iran make any substantial progress very difficult.
The opposition said early on Friday it would not meet the government side unless it first agreed to publicly endorse a 2012 statement by world powers calling for a transitional government in Syria.
The government rejected the demand and said its negotiators would leave Geneva unless serious talks began within a day.