Teen pop star Justin Bieber has been arrested in south Florida on a drink-driving charge after he was caught drag racing on a main thoroughfare in a rented yellow Lamborghini.
A judge set his bail at $2,500.
In the latest off-stage incident to grab headlines, he initially resisted arrest and later told officers he had consumed alcohol, cannabis and prescription drugs, police said.
Officers observed Mr Bieber's car and another sports car accelerate at high speed from a stop position on a four-lane road in a residential area a few blocks from the South Beach tourist district, Miami Beach Police Chief Raymond Martinez told reporters.
Two SUVs had blocked the road so the 19-year-old singer could race a friend, who was driving a rented red Ferrari, police said.
Mr Bieber, who was driving 55-60mph (88–96km/h) in a 30mph zone, was also charged with resisting arrest without violence and driving with an expired Georgia driver's licence, Miami Beach police spokeswoman Vivian Hernandez said.
The Canadian star was "a little belligerent, using some choice words," when police arrested him, Ms Martinez said, but grew cooperative once at the police station.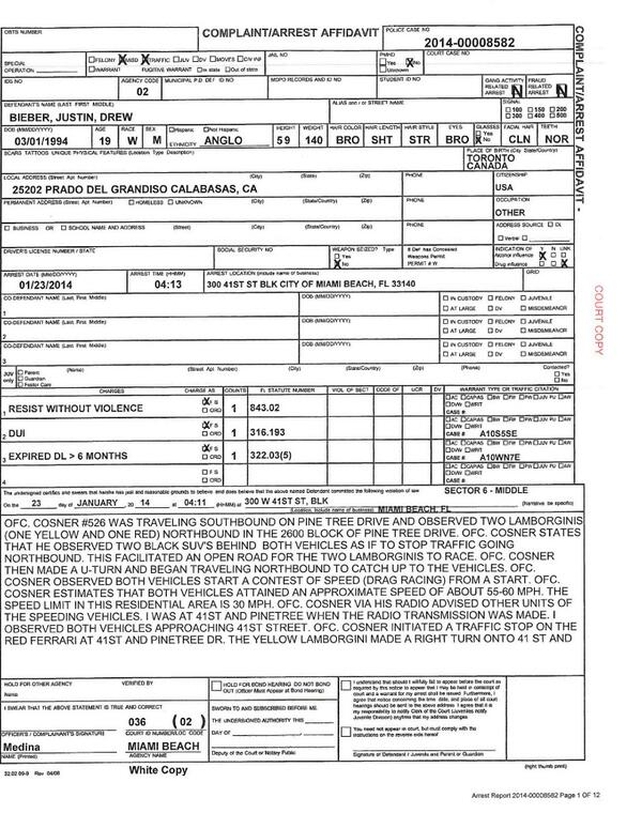 Mr Bieber later acknowledged that he had used prescription medicine, had been smoking marijuana and had consumed alcohol, Ms Martinez said.
His friend, identified as fellow singer Khalil Sharieff, was arrested on a charge of driving under the influence, according to Ms Hernandez.
The police department in the Florida city of Opa-locka is investigating whether two of its officers gave Mr Bieber an unauthorised escort on Monday night when he landed in a private jet at the local Opa-locka airport, said city spokesman David Chiverton.
He confirmed the city also was looking into whether officers escorted Mr Bieber to the King of Diamonds strip club in Miami Gardens.
"We're investigating whether our police department escorted him there," said Mr Chiverton.
"You can have fun in Miami, but not too much fun."
Mr Bieber's erratic behaviour has at times overshadowed his music career in the last year as the Canadian star who shot to fame at age 15 transitions to adulthood.
Earlier this month, detectives in California raided Mr Bieber's home after he was accused of pelting a neighbour's house with eggs.