Former US Congresswoman Gabrielle Giffords, who was shot and badly wounded in a shooting rampage, has gone skydiving to mark the third anniversary of the attack that nearly took her life.
Ms Giffords, an Arizona Democrat, was shot in the head on 8 January 2011, when gunman Jared Loughner opened fire at an event in Tucson, killing six people and wounding 13 others.
The former congresswoman has skydived before, but this was her first jump since the shooting.
Before jumping, the 43-year-old tweeted a picture of herself with parachute equipment strapped to her back and said in the post that Vice President Joe Biden had called to wish her good luck.
"Join me next time?" she asked Mr Biden in the tweet.
In an opinion piece in the New York Times yesterday, Ms Giffords said that three years after the attack that wounded her she still struggles to speak, her eyesight is "not great," and her right arm and leg have been "paralysed."
But she said she was beginning to gain movement in the arm.
Ms Giffords resigned from Congress two years ago to focus on her recovery. Her popularity and political stature soared as she battled through a difficult recuperation.
She compared her fight against gun violence, which has been her focus since leaving office, to her rehabilitation and said the US needed reforms such as strengthening and expanding background checks for gun purchases and making it illegal for stalkers and domestic abusers to buy firearms.
"I've seen grit overcome paralysis," she wrote. "My resolution today is that Congress achieves the same."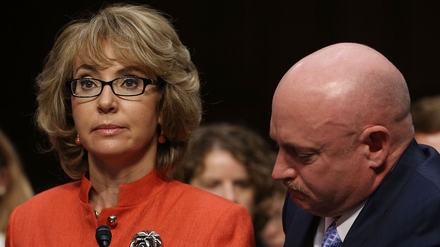 Ms Giffords says that she and her husband, retired astronaut and US Navy Captain Mark Kelly, are proud gun owners. Last year, they founded Americans for Responsible Solutions to lobby and campaign for proposals to prevent gun violence.
The group said in a post on its website that it spent $600,000 in Virginia last year to oppose Republican candidates for governor and lieutenant governor due to their positions on guns.
The two candidates lost in the November vote.
Ms Giffords and a mother of a boy slain in the 2012 school shooting in Newtown, Connecticut, have also co-authored a lesson plan for classrooms to discuss the massacre that left 20 children and six staff members dead at Sandy Hook Elementary.
The man who shot the former congresswoman, a college dropout with a history of psychiatric disorders, is serving a life sentence for the shooting at a Tucson area supermarket where Ms Giffords was meeting constituents.
Jared Loughner, 25, pleaded guilty in 2012 to murdering six people and wounding 13 others. He admitted going to the supermarket armed with a loaded Glock 19 pistol with the intention of assassinating her.
Those killed in the attack included US District Judge John Roll and nine-year-old Christina-Taylor Green.
In Tucson on Wednesday, bells were rung to mark the anniversary of the shooting.
US Representative Ron Barber, a Democrat and former aide to Ms Giffords wounded in the shooting and later elected to fill her former seat led a moment of silence on the House floor.
US Senator John McCain, a Republican from Arizona, said in a statement that he joins citizens across the state "to pause and remember those lost in a senseless and shocking act of violence in Tucson three years ago."
"We pray for the continued recovery of all those wounded, including my friend Gabrielle Giffords, whose courage and perseverance has inspired our state and nation," he said.