A deadly blast of arctic air that shattered decades-old records as it gripped the middle United States has moved eastward.
Thousands of flights have been cancelled, road travel paralysed and schools and businesses have been closed.
New York's Central Park hit a record low temperature for the day of -16C but with winds gusting to 51km/h conditions felt far colder, according to the US National Weather Service.
"The winds will diminish in the afternoon, so that will make the wind chill temperature have a little less of a bite to it," said Joe Polina, a meteorologist with the service.
Shelters for the homeless were overflowing due to the severe cold brought by a polar air mass that produced the coldest temperatures in two decades and at least four deaths.
At New York's Bowery Mission homeless shelter, the 80 bed dormitory was at full capacity last night and another 179 people slept in the chapel and cafeteria, officials said.
After running into unpassable snow and ice, three Chicago-bound Amtrak trains came to a halt yesterday, stranding more than 500 passengers overnight.
They had heat, water, lights and toilet facilities, according to Amtrak.
As of this morning, passengers on two trains, which spent the night on the tracks in Bureau County, Illinois were being transported to Chicago by chartered bus, an Amtrak spokesman said.
In the normally mild south, Atlanta recorded its coldest weather in 44 years, when the temperature dropped to -14C, while temperatures in northern Florida also briefly dropped below freezing.
In Kentucky, an inmate who escaped from prison begged to be let back in just a day later due to the extreme cold. Robert Vick escaped from Blackburn jail on Sunday but turned up at a motel yesterday asking for police to be called.
Vick was placed in observation for a few hours due to exposure to the cold weather before being returned to the jail.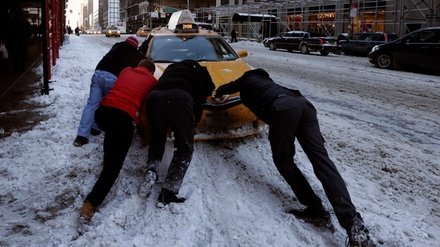 Wholesale electricity prices in the central and eastern US spiked far above their normal seasonal level as homes and businesses needed to use more energy to warm buildings amid dangerously cold conditions.
Power demand in Texas hit a new winter record.
The deep freeze hit many Americans' morning commutes with icy or closed roads and flight delays, with around 1,987 US flights cancelled and roughly 1,028 delayed, according to FlightAware.com, which tracks airline activity.
Hardest hit were passengers who had booked trips on Jet Blue Airways Corp, which halted its flights at New York's three major airports and Boston Logan International Airport overnight to allow its crews to rest after five days of scrambling to recover from snow and cold-related delays.
Major US cities from the Midwest to the East Coast were in the grip of temperatures well below freezing, with Chicago seeing temperatures of -23C, Detroit -24C, New York -14C, Washington -13C and Boston -11C.