A 59kg bomb left in a car outside a shopping centre in Belfast city centre last night partially exploded, the PSNI has confirmed.
A detonator went off, but failed to trigger the bomb, which consisted of home-made explosives in a beer keg.
Police said the attack on Victoria Square signalled a heightened security threat to the city in the run-up to Christmas by terrorists opposed to the peace process.
The bomb was placed in the back of a car.
A driver was stopped in the republican Ardoyne district by three masked men wearing boilersuits, who ordered him to take the Renault Laguna to the car park.
After abandoning the vehicle, the driver ran across the street to the nearby Musgrave Street police station and raised the alarm.
Hundreds of people had to be evacuated from restaurants and a cinema as army bomb disposal experts were called in.
The detonator went off as they prepared to examine the car.
The alert caused major traffic disruption in Belfast city centre this morning.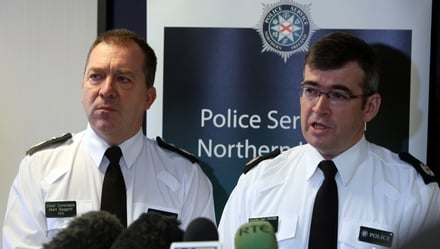 PSNI Chief Constable Matt Baggott said: "The philosophy of these groups is simply hatred ... There has been a surge recently in dissident republican activity.
"We have seen letter bombs, under-car booby traps, blast bombs, hijackings.
"These groupings are trying to bring themselves to notice again. They seem to be in some form of bizarre competition to make sure that they have a profile."
Tanáiste and Minister for Foreign Affairs Eamon Gilmore said the incident was "nothing short of attempted murder".
He said it was also an attempt to harm trade, tourism and employment ahead of the Christmas period in Belfast and urged anyone with information to contact the PSNI.
Elsewhere, the PSNI used a remotely controlled drone as part of an operation to defuse a small bomb in north Belfast yesterday.
Several houses had to be evacuated after a viable device was discovered in Jamaica Street.
Local residents said it was thrown at two men who were in the area at the time.
The device was the latest in a series found in various parts of Belfast in recent weeks.
The unmanned drone was bought by the PSNI for security arrangements at the G8 conference of world leaders in Enniskillen, Co Fermanagh.
The United States State Department has also condemned the violence.
It said "The United States condemns the recent cowardly acts of violence in Northern Ireland and reiterates its continued support for those who are working to build a stronger society, a vibrant economy, and an enduring peace.
"The vast majority of the people of Northern Ireland are committed to the peace process and to living in a society free of the violence and hatred of the past. Over the past 15 years, the people and institutions of Northern Ireland have made great progress toward peace, stability, and prosperity.
"Those intent on violence will not deny Northern Ireland the opportunity to fulfil these goals."