A record 14,500 people took part in the 34th annual Dublin Marathon.
Irishman Sean Hehir won the men's race in a time of two hours, 18 minutes and 19 seconds.
The Clare athlete and primary school teacher is the first Irish man to win since John Treacy in 1993.
Dublin's Maria McCambridge won the women's race in a time of two hours, 38 minutes and 51 seconds.
Her victory follows Sonia O'Sullivan's win in 2000.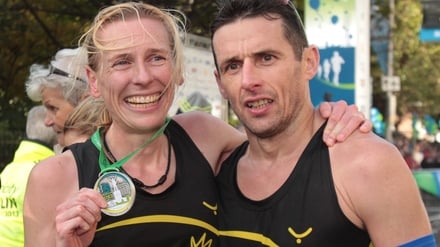 Both Ms McCambridge and Mr Hehir have also won the Woodie's DIY Marathon Championships of Ireland.
A 22-year-old Dublin woman became the first Irishwoman to complete a marathon on crutches.
Liz O'Brien, a talented musician and an Irish Girl Guides leader, completed today's Dublin Marathon in eight hours 30 minutes.
Meanwhile, a man is in a serious condition in hospital after collapsing during the event.
Race organisers say they are "very concerned" for the man's welfare.
Officials from St John's Ambulance treated the man before he was removed to hospital