Gardaí investigating the disappearance of Elaine O'Hara are trying to identify the people she was last in contact with before she went missing.
The 36-year-old's remains were found in the Dublin mountains last Friday.
Gardaí said she was a childcare assistant and a trusted person.
Ms O'Hara also worked part-time in a newsagents in Blackrock Shopping Centre and was a very popular employee.
On the day she went missing, she had volunteered to work at the Tall Ships Festival in Dublin city centre.
Ms O'Hara was reported missing by her father on 24 August 2012.
She was last seen leaving her home at Belarmine Plaza in Stepaside at around 5.05pm on 22 August 2012.
Detectives at Blackrock Garda Station are examining her computer and phone records, and seeking to speak to those she communicated with by phone, text and e-mail.
Gardaí are also examining the possibility that she may have met someone through online dating sites.
Five days after Ms O'Hara's remains were discovered at Killakee Mountain in Rathfarnham, the scene remains sealed-off for further searches.
The initial discovery was made last Friday by a woman out walking her dog, but since then further skeletal remains have been recovered and the search has been extended to a wider area.
Personal and other items found at a second crime scene in Roundwood in Co Wicklow around 20km away are now being forensically examined.
These include a key fob from Ms O'Hara's workplace at Dunnes Stores, a phone and clothing believed to be hers.
Handcuffs and leg restraints have also been recovered and gardaí are now trying to establish if they are linked to her disappearance and death.
On the day Ms O'Hara went missing she was wearing navy tracksuit bottoms, white runners and a bright blue zip-up top.
Her car, a turquoise Fiat Punto (05D), was found by gardaí at Shanganagh Cemetery at 3pm on 24 August last year.
They say they are keeping an open mind on the case, which is officially classified as a suspicious death, but is being investigated as a possible abduction and murder.
Ms O'Hara had been unwell and had only recently been discharged from hospital before she went missing.
An incident room has been set up in Blackrock and can be contacted at 01-666 5200 and a general appeal for information has been issued.
Gardaí said they are particularly interested in speaking to people who may have had contact with Ms O'Hara up until the time she disappeared on 22 August 2012.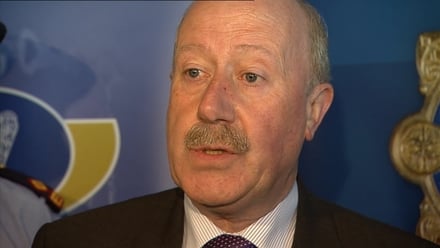 Gardaí 'will do utmost' - Callinan
Garda Commissioner Martin Callinan has said the force will do its utmost to find out what happened to Ms O'Hara, but it was too early to say how she died.
He said there was a lot of speculation in the media and he was not sure the publication of such information was helpful.
Commissioner Callinan said he was pleased with the high standard of police work so far, which led to the discovery of some of Ms O'Hara's personal items in Co Wicklow, and that that standard would continue.
A priority in the investigation was to find all of her remains, he added.
He also warned that while the internet was an invaluable creation, people had to be careful who they were dealing with and the circumstances in which they were dealing with them.
Commissioner Callinan also sympathised with the O'Hara family on their loss.